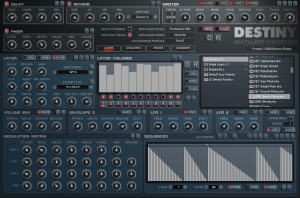 Although Destiny is available to buy, it is also a possible bonus product for Level 6 in the Augment Group Buy which is available for just $14.99.
Destiny features 11 Layers each of which contains a Singularity Synth which is also included as a 2nd Synth. The Layers can either be stacked into a Multi Layer Synth or used as a Multi-Timbral Sound Module. Each Synth has 2 Envelopes, 2 LFOs, a Sequencer which are assigned to Destinations via a Modulation Matrix.
Also included is Singularity which is made from a single Layer of Destiny. It still has 11 Layers but these are solely used for creating a great sounding Unison. Both Synths are preset compatible, although Singularity will convert Layer 1 to Unison Layers.