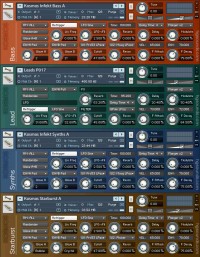 Infekted has been updated to include new Preset Categories and bonus presets bringing the total number of presets to 6,474.  Additionally 4 new hybrid Kosmos Synths have been introduced which use single sample waveforms from all collections. The free Lite version has also been updated and can be downloaded from here. Here is a summary of the new features:
4 New Hybrid Kosmos Synths – Each uses 80 single samples, 20 from each collection to create a unique palette for each synth. Using a single sample as opposed to the multi-sampled instruments means that it uses less memory and so more waveforms can be made available to each Kosmos synth. These 4 synths create a whole new world of possible instruments which are easily programmed due to the Kosmos interface or can be randomised and tweaked for more instant gratification. There are also mono versions of these Kosmos Synths as with all others in the collection.
+1 Octave Preset Category – This category is simply tuned an Octave higher than the Poly category.
Poly Seq Preset Category – This is the same as the Poly Category but replaces the Mono/Legato script with the unique HGS Sequencer script used in the main Kosmos Synths.
Bonus Presets per collection – This is a selection of 530 new presets created using the single presets and tweaked using the Kosmos interface.
Kosmos Presets – 600 new presets created using the full Kosmos engine for a diverse selection of sounds.
Infekted Lite has also been updated with 50 Kosmos Presets and the Octave and Poly Seq categories.