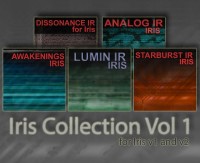 This collection compiles the first 5 Iris Releases into a single product. It comes with 550 presets for both v1 and v2 of Izotope Iris and over 900 Samples. For users who own at least one of the included releases there is an upgrade option offered on the Downloads Page for a limited time.
Instruments are constructed using 1-3 Samples and take full advantage of the Spectral Features of Iris and most have Aftertouch assigned to the Filter Cutoff. The intention was to provide musically useful Pads full of texture and movement. All 919 included WAVs are also available to explore when creating your own instruments, or in other music products that can use them.
The Following Releases are included:
Presets: 550
Samples: 919
Download: 1.01 GB
Iris Collection Vol 1 costs $149.