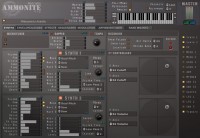 Ammonite v1.1 is a serious upgrade which introduces a Sample Engine, Additive Synthesis, Ring and Ampiltude Modulation, Xfade Modes and much much more, see the changelog below for details. Ammonite has become an even more powerful synth / Sonic Playground. The demo version has also been updated.

V1.1 Release
Sample Engine now complete:

Normal, Reverse, One-Shot, Xfade, Xfade Reverse and Forward Back modes. Xfade will automatically fade in out a custom loop to create a smooth loop in any sample, The loop button must be deactivated and a custom loop set which is not too close to either the start or the end for it to work well.
Samples now load on their own thread and no longer interrupt the audio stream.
Fixed a bug where the default bank of samples was displayed when no bank was selected.
Fixed a bug where incrementing a sample could skip banks if another bank had a sample of the same name.

If no Microtuner patches are installed, the Microtuner is now hidden, requested by someone who does not use the Microtuner.
Fixed a problem where in mono mode the samples were not re-starting when retrigger is set to ON.
Added 2 new banks of 64 presets called presets 3 & 4 which includes a few presets which use samples and the other new features of 1.1.
Hold Mode and Note Repeat Mode added to the Arpeggiator.
Almost 100mb of included samples and 400+ Included Presets.
V1.1 beta 02
Sample Synthesis Engine Added

Up to 4 samples can be loaded, of either 8,16,24 or 32 Bits. The Embedded Loop points are imported, and can changed via a custom Loop slider.
Custom Start Time, which can also be modulated via the Modulation Matrix.
Sample playback modes include Forward, Reverse, One Shot plus cross fade modes which will automatically cross fade custom loops seamlessly.
Samples can be randomized or unloaded.
New search system will look at all available hard drives/removable drives for a 'X:\HGSounds/Samples folder' and if it exists and contains folders of samples, they will be added as banks. Custom paths can also be added via a config file.
A text file is used to store the result of the scan, which is then used to load the sample locations on each load. To refresh this, there is a manual sample scan update button to refresh the list, when new samples have been added.

8 New Wave Fade Oscillator Mix Modes added which allow fading between OSC A and B in a variety of ways.
Synth Engine Bit Rate Reduction – This slider allows reducing the bit rate between 12 and 2 bits for a lofi & noisy sound.
Wave B on each synth now has a + Octave button for increasing the pitch by 1 Octave.
Now ARP Legato is enforced if the ARP and Gate Sequencer are enabled at the same time, previously this could lead to silence. Unfortunately to make this change the Legato setting in old patches may now be set to off, there was no way around this…
The Gate Sequencer has now been de-clicked, when re-triggering the filter Envelope.
Wave Restart has been added to the Gate Sequencer, although this will click most of the time due to the nature of it. It is more useful for leaving off when re-triggering the envelopes, especially when using a an interesting sample as the sound source.
Band Pass 1 has been replaced by a nice sounding Highly Resonant Low Pass Filter. There were problems with the band pass, and it didn't sound very different to Band Pass 2.
No Filter has been added to the Filter Modes.
Spread is now Glitch Free, and is now also triggered by the Gate Sequencer for great sounding stereo sequences.
Limit Cutoff Frequency Button has been added to the Envelope page which will override the filter Range setting, and locks the low cutoff to an audible range.
Pitch Bend 2 can now use Pitch Bend 1 so that both synths have the same pitch bend range.
Key Tilts have been Added to the Modulation Matrix Inputs. These can be used to tilt increase/decrease values either side of the mid point, which is either C3 or C4 depending on which is selected. For example when assigned to the filter Cutoff by a positive value, the top end of the keyboard will be brighter than the bottom end, whereas the tilt point will be identical to before it was switched on.
Filter code has been optimised for more efficient performance especially when cascaded.
Occasional Mono Mode Glitches when retrigger is disabled fixed.
3 New Analogue Modes (on the FX Screen) which are needed because the existing modes sound a bit heavy handed with the sample system, so there are now 3 mild versions Mild 1, 2 and 3.
New Random Voice 2 added to Matrix inputs, plus the behaviour has been altered so that Rnd Voice 1 is triggered by Gate Sequencer ENV1, and Rnd Voice 2 is triggered by Gate Sequencer ENV2.
New Bank of sounds made by Darko and Bank A updated.
Bug Fix – Now when Spread is switched on (next to the pan slider) Pan is disabled and the sound is centralized for a more even Spread.
V1.1 beta 01
Real Time Synthesis engine added, Waveforms are synthesized in real time using sine approximations. There are Sine, Saw, Triangle, and 2 Waveset Modes. The Waveset Modes use the same data sets as the standard waveset options, but have 25 new Frequency Modes. There are also another 2 other Wavesets available with an entirely different set of more discordant frequency modes.
4 programmable Real Time Additive Waveforms implemented, each with 16 sliders to control the volume of harmonics, and 33 Frequency modes available. There is also the option to use the Additives with the standard synth engine, whilst this uses less CPU, the Frequency Modes will have no effect. This means that they will always use the standard 1-16 harmonics.