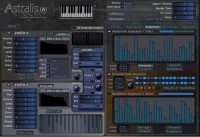 These were the first synths produced by HGS and are only available as part of the Astralis Collection If interplanetary excursions are your thing, you will love Astralis A , a synth to lose yourself in. The Astralis synths are packed with soundscaping features, an intuitive hands on professional sound design environment.Ideal for any style […]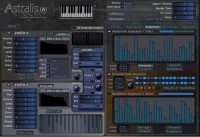 These were the first synths produced by HGS and are only available as part of the Astralis Collection
If interplanetary excursions are your thing, you will love Astralis A , a synth to lose yourself in. The Astralis synths are packed with soundscaping features, an intuitive hands on professional sound design environment.Ideal for any style of music though slightly inclined more towards Ambient, Psy, and atmospheric textures. It is a tweakers synth, be warned whole nights can vanish very easily!
The Astralis VSTi Synthesizer Pack contains 2 Synths, A and B are both oscillator Based. Visit the following pages for more info on each:
They all share most features which include:
A Microtuning Patch System
Two Modulation Sequencers
A Gate Sequencer
Cascadable Filters
An Advanced Modulation Matrix
Programmable Zones
A Pitch Bend Zone
Multi FX Section with Reverb, Delay, Echo, Ring Modulation, Clipper, Organic and an 8 Band EQ
Noise and Drive per Oscillator
Spread
A Voice Modulator
An Arpeggiator
…and much more
Testimonials and Reviews
"Astralis includes an excellent combination of effect options, including Drive, Reverb, Delay, Ring Modulation, and Organic (a further delay based effect). For me, however, the highlights are the Arpeggiator, Modulation Sequencer and Envelope Gate Sequencer. Whether you want disco style arpeggios or Trance style rhythmic gated effects, Astralis has plenty of potential… …The presets do an excellent job of demonstrating what Astralis is capabale of. There is some truly wonderful stuff amongst this lot, from scary sci-fi pads and soundscapes through to trance-friendly, mod sequenced, analogue style beeps. The presets also demonstrate that Astralis can do both subtlety and in your face aggression." – John Walden (Sound on Sound 08/07)
"Astralis introduces itself as an instrument dedicated to textures creation and other spatial explorations. This allows you to expect the usual bath of flabby reverbs and spongy echoes that this kind of lyricism generally promises. Surprise : such is not the dominant colour. Astralis's deep nature proves to be more muscular than the one of your average "space synth", sometimes with a well-tempered aggressivity, without turning into FSU/destroy mash. Its armada of effects and its many features make it very versatile, but of course, buying it to program standard basses and classical leads will not be the most logical use. On the other hand, if you like to create experimental electro-acoustic oriented sounds, this is the perfect example of a software that will keep you awake at night. And a few minor variations are enough to transform a preset into a very different variant, so once that you will master the software, your patches library is bound to grow quickly." – Tom at Inspira Sons
"Just one more email to say that 'C' is fantastic…. wow!!! I was thinking as I was working with the beta version last night (into the small hours)… this is the most exciting thing to happen to VSTi synths in around 5 years. All credit to you. The sounds are awe inspiring! The 'tweakability' of this synth is like no other synth I have worked with before. It is intuitive, looks great and above all sounds fantastic. No one else has achieved such great results with synth edit. It is the perfect addition for my soundtrack and sound art work." – Relative Pitch by Design
Product Features
Astralis A:
Dual Oscillator - 11 Waveforms, Harmonic Control, 9 Mix Modes and Realtime Modulation
Spectral Oscillator - Sine based oscillator with 16 Partials and realtime modulation. The Spectral Oscillator can be swapped for a second Dual Osc.
2 complete synths, synth 1 uses the Dual Oscillator.
2 Polyphonic Filters with Low Pass, High Pass, Band Pass, Notch, Peak A, Peak B and both cascadable up to 8 times.
Astralis B:
As Above but 2 Oscillator Single Synth
1 Polyphonic Filters with Low Pass, High Pass, Band Pass, Notch, Peak A, Peak B and both cascadable up to 8 times.
Common Features for Astralis A and B (B includes most features but some have been dropped for CPU optimization)
Filter Limit - Reduce the lowest/highest filter frequencies.
Filter 1 can be routed through Filter 2 or Filter cutoff frequencies can be linked
2 Volume ADSR Envelopes one per synth.
White Noise Source can be added to either synth.
Drive/Distortion Each synth has an independent distortion.
Each Synth/Oscillator has independent Volume, Pan, Octave, semitone and finetune controls.
Synth 1 can be used to sync to Synth 2
6 Voice Polyphony and Mono Mode
Glide - sets the amount of time taken to go from one note to the next.
Pitch Bend up to 4 Octaves
24 Note Microtuning Patch System
Unique system for using custom tuning scales over 1 or 2 Octaves. Patches are built using the included Bank Manager. Built with Scala files in mind patches can be entered in either ratios or cent values, have a title and description. Any midi key in the patch can be set to any pitch, and the pitch bend will function properly unlike other Microtonal systems. 160 Patches are included with many World Tunings (Middle East, African, Far East etc...).
A Base Tuning - A usually set at 440hz can be set to any value for authentic recreation.
Root Note - The root note can be altered over a 2 octave range
Special Features
Gate Sequencer (Trance Gate) - Can be used on any of the 3 ADSR Envelopes.
Spread - Sets the pan of each polyphonic voice to a specified position or can be random.
Attack Reducer - Control over the individual attack of each polyphonic voice, can also be set to random
Release Reducer - Control over the individual Release of each polyphonic voice, can also be set to random
Custom Clock - To build a custom pulse clock synced to the host bpm to drive the sequencers.
Keyboard Velocity Graph - For building custom velocity maps
Modulation Options
Modulation Matrix - 8 x 8 Matrix with a choice of 11 Sources can be mapped to a choice of 26 Destinations.
Modulation Sequencer 1 - Polyphonic Sequencer which can be stepped or smoothed, synced to the Host Tempo. Also has keyboard mapping.
Modulation Sequencer 2 - Monophonic Sequencer which can be stepped or smoothed, synced to the Host Tempo. When smoother behaves like a programmable LFO
Low Frequency Oscillator with a selection of 17 waveforms
Voice Modulator - Per polyphonic voice values which can be set or random
Other Modulation sources are Velocity, Modulation Wheel, Pitch, Aftertouch, Expression and Pitch Bender
ADSR Envelope 3
Effects Section
Flexible Routing Options to change the order of the effects, plus parallel mode.
Reverb
Delay
Echo
Ring Modulator
Flanger
Organic
8 Band Graphic Equalizer
Clipper with 4 modes

Uses 2 Oscillators with a variety of mix modes and is capable of a wide array of sounds.
OSC A/B: Selects the wave type between:
Sine
Saw
Ramp
Soft Ramp
Peak Ramp
Square
Triangle
Peak
Octava
Cluster 1
Cluster 2
H-A/H-B: Selects the number of Harmonics the Oscillator Uses.
Mode: Selects the interaction mode between the 2 oscillators between:
Single - Wave A only (standard mode)
Dual A+B, Dual A-B: PW controls phase of both waves
Dual Mix: PW controls Mix between waves A/B
Dual Width A+B, Dual Width A-B: PW controls phase difference between waves A/B - Can be used for Pulse Width Mod using Saw/Ramp waves
Ring Width, Ring Width+A: Ring signal = A*B : PW controls phase difference between waves A/B
Phase Distort: Wave B distorts the phase of Wave A: PW controls depth of phase distortion

The Spectral Oscillator uses 16 Individual Sine Waves to produce Harmonics, each harmonic level can be adjusted or modulated to create a sound wave.

SMOD: This controls the Spectral Modulation Volume. To Modulate use S Mod as destination in the Modulation Matrix.
Spectral/Dual: Switches between the Spectral Oscillator and a Second Dual Oscillator.
Detailed Info
Effects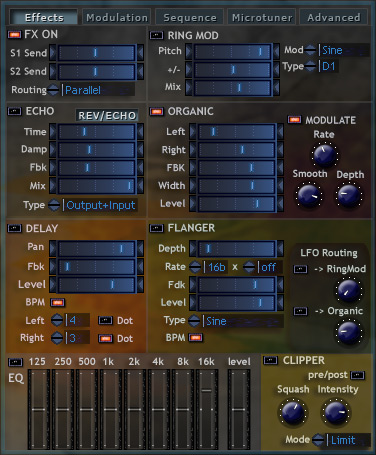 The FX section should be fairly obvious to most people. Organic is a delay based effect I designed to achieve a particular 'Organic' sound, it is capable of many different Effects and is great combined with the Flanger to create some Harmonic Frequency Superwaves, which is something I love :) Another thing worth noting is that the Routing system is very Flexible, there are a number of different combinations of which effect goes into what. Also the Reverb and the Ech are interchangeable.
Sequencers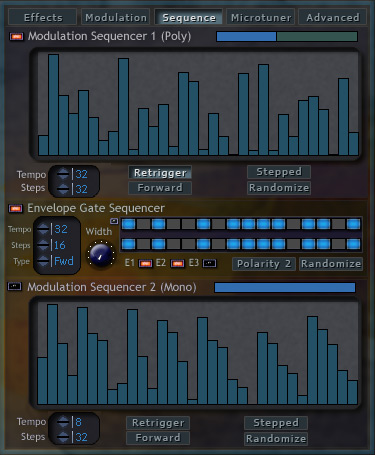 There are 2 modulation Sequencers, one is Polyphonic and the other Monophonic.  Each sequencer produces a sequence of the displayed values (Blue Bars) which can then be used to control any destination through the Modulation Matrix. Each can also be either stepped or smooth and with smooth set to full they behave almost like a  programmable LFO. One other thing to note is the blue bar at the top right, this is a zone and represents your midi keyboard so that the sequencer output can be confined to a set number of keys.
The Gate sequencer is basically a Trance Gate which retriggers any/all of the 3 Envelopes in time with your host tempo. Polarity 2 menas that Envelope 2 will recieve the inverse sequence so that it is triggered on the off notes only.
Microtuner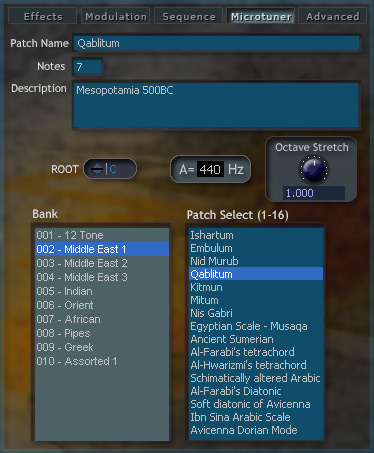 Astralis supports up to 24 Note Scales. This section is very simple within the synth as it is just a patch selection. Patches are installed to C:/HG_Scales.  You can select presets by selecting a bank and then choosing one of the 16 patches in that bank. There is an included vsti called MTPatch which I will cover later which is for making Banks and Patches.
ADVANCED USERS: The Root note changes the pitch of middle C to the desired value and the A value allows retuning the synth from the standard 440. For example if you have a scale which goes from A to A and A:420 you would set root to A and type 420 in the A box. The scale still begins on the C midi key but will be retuned to the actual pitch of the tuning scale. This is not necesary for using scales, only if you wish to recreate a scale precisely. These values are stored with the Synth patches and not with the Microtonal Patches.
Octave Stretch allows adding pitch stretching/shrinking either side of middle C
Modulation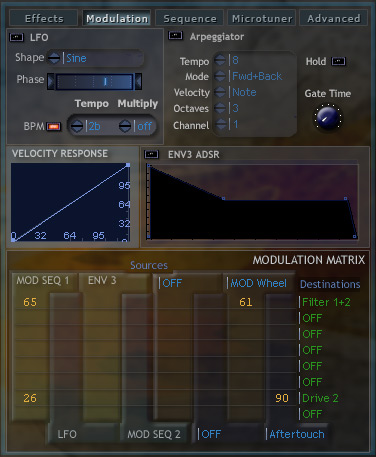 This page contains the LFO and the Arpeggiator which should be self explanatory. The Velocity Response is to set the response of your midi keyboasrd on a per patch basis, double clicking adds a node which can be moved, ctrl clicking deletes a node, you can create many nodes to create complex velocities. Env 3 is a standard ADSR envelope which can be used through the Modulation Matrix.
The 8 x 8 Modulation Matrix is the heart of synth as it allows you to map any available control source to any available destination by a specified amount. Numbers can be positive of negative and are changed by clicking the appropriate box and dragging the mouse up and down. double clicking a box will switch the box off.
Advanced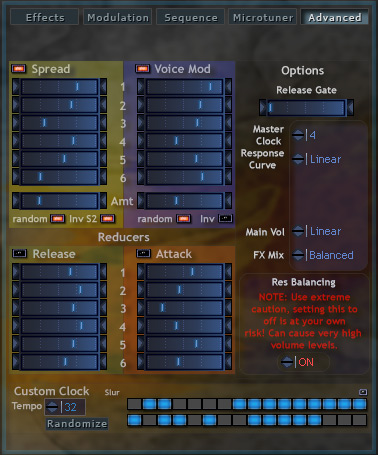 The advanced section contains the Stereo Spread feature. This allows custom panning of each polyphonic voice or randomizes each. Inv S2 inverts the signal to synth 2 so that the voices are diametrically opposed.
The Voice Modulator is the same as Spread but is for use through the Modulation Matrix so can be used to control any destination.
The reduces allow changing attack or release times for each polyphonic voice, they can be used creatively of help reduce CPU load.
The custom Clock is a unique feature which provides a programmable clock to drive the sequencers, basically on each clock pulse the pulse will only be sent it the button is selected for that step which has the effect of pausing the sequencers. It can create complex rhythms.