Kosmos Infekted Collection for NI Kontakt
$99.00
Kosmos dual synth engine, with 524 multi-sampled instruments designed on a Virus TI
Product Description
Reviews: buenasideas.de (German) | buenasideas.de (Google translate) | Producer Spot
Get the completely free Kosmonaut from here which gives a free slice of the world of Kosmos.
Infekted combines the previously released Starburst with another 3 collections of sounds designed with a virus TI. This is a stunning collection bringing 542 Multi-Sampled Instruments to Kontakt. To get the most out of Kosmos Infekted you should have the full version of Kontakt 5.3, although there is support for Kontakt 4 with a few features missing. The Kosmos scripts for Kontakt are currently made up of 2 types of instrument:
Kosmos Full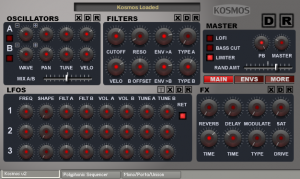 The Kosmos 'Full' script emulates a classic 2 Oscillator Synthesizer where the Waveforms are comprised of all the samples in the Release. The synth has 2 Layers each with a selection of 6 filters, 3 LFOs assignable to Filter, Pitch and Volume of each synth layer. The effects section has Tempo Synced Delay, Reverb and a Modulator which is selectable between Flanger, Phaser and Chorus. There are 3 envelopes, one for the Amp of each layer and the third for the Filter Cutoff. Aftertouch and the Modulation Wheel can be assigned to various parameters. There is a sophisticated Randomize system at the local section and the global level with an adjustable amount. The Kosmos Full scripts are great for creating complex unique pads/sounds on the fly with ease. More Info
Kosmos Single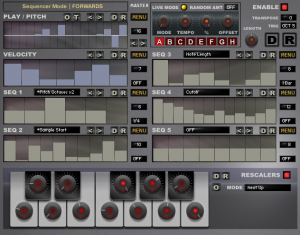 The 'Single' script is a trimmed down version of the Full Kosmos script tailored to work with a single sampled Instrument. In comparison to the Full script, these instruments are loaded into RAM (as opposed to using DFD) which enables the addition of a Sample Start Offset Knob. The star of the show however is the Advanced Sequencer which has 8 individual  'instances' which can be switched on the fly via a set of midi note triggers. Each of these instances has 7 sequencers, one dedicated to pitch, one dedicated to Velocity, and the other 5 are freely assignable to a large array of destinations such as Note Length, Sample Start, Cutoff, Resonance etc… All sequences are synced to the Pitch Sequencer tempo by default but they can also have an independent tempo setting and they all have their own step size. Each of the 8 instances can also have different Destinations selected which really opens up creative freedom.
There is also a series of real-time triggers for manipulation tempo and Pitch on the fly which truly makes Kosmos a creative improvisation tool when added to the ability to switch Instances on the fly. The octave where the triggers reside can also be set whichever Octave you prefer.
Finally there is also a Scale Remapper which allows retuning sequences based on the root note that triggered them, so for example C key can be forced to C Minor whereas the D sequences can be forced to D major. This is a great way of breaking away from the traditional transposed sequenced sound when required. Sequencer Info
These videos should give a very good idea of some of the possibilities Kosmos/Infekted offers:
Kosmos Sequencer v2
Kosmos Full
The Samples
Each Virus preset was designed over a series of months to be musically useful for the most part, so there is nothing particularly wild. There are plenty of succulent basses, leads, pads and everything in between which makes Infekted a superb electronic music workhorse. The intention was to build a rompler type collection of base instruments to feed the Kosmos Synths. Inside Kosmos the randomization can be used to quickly create unique and varied sounds, each section has it's own default/randomize buttons, as well as the ability to be included/excluded from the global randomizer.
Detailed Kosmos Information is here
Product Features
Kontakt 4/5
Infekted includes 525 Multi-Sampled Instruments carefully crafted with a Virus TI Synthesizer and feeds the Kosmos Synth engine for huge sound design potential.
Kosmos v2 Features
2 Synthesizers each with:

Waveform (Sampled Instrument)
Dedicated Filter Type
Dedicated Volume Envelope
Filter B has a Cutoff Offset from the Main Cutoff Knob
Filter Envelope Amount +-
Pan
Tune

Mix Amount – This fades between the 2 synths
5 Filter Types

Pro 53 Low Pass
6 Pole Low Pass
4 Pole Hi Pass
Ladder Low Pass
Vowel
Phaser

3 Tempo based LFOs

Each LFO has the following Destinations:

Filter A
Filter B
Volume A
Volume B
Tune A
Tune B

LFO 1 Can be set to Freeform Mode (Doesn't Retrigger on a new note)
LFO 2 can modulate LFO 1 Frequency
LFO 3 can modulate LFO 2 Frequency

Reverb with adjustable amount and Reverb Time
Tempo Delay with adjustable Time
Modulator with a choice of 3 effects:
Flanger at 10 different speeds
Phaser at 10 different speeds
Chorus at 10 different speeds
Saturation
Drive/Distortion
LOFI Mode – 12bit / 26.0 HZ
Gentle Limiter
Bass Cut
Adjustable Pitch Bend Range -12 > +12
3 Envelopes - a Volume Envelope for each Synth and a Filter Envelope each with:

Shape
Attack Time
Hold
Decay
Sustain
Release

Randomization Amount which determines how aggressive Randomization is for most parameters
Mod Wheel has individual assignments for:

Vibrato Amount
Filter Cutoff A
Filter Cutoff B
Resonance

Aftertouch has assignments for

Filter Cutoff A
Filter Cutoff B
Resonance

Vibrato Speed
Global Randomization
Global Default
Global Randomize enable for each section to decide whether the section should be randomized.
Polyphonic Sequencer with 3 sequencers

Play/Pitch sequencer

Decides which Notes will play, and additionally their pitch.
The 1st 5 notes are for octaves only actual Pitch/+1/+2/-1/-2 like a classic Arpeggiator
This is followed by an Octave in Semitones so that melodic sequences can be made

Velocity Sequencer

Determines the Velocity of Each played note
Has an independent Step Length so that Poly-rhythms are possible
Because each Synth has separate assignments for Velocity→Amp & Velocity→ Cutoff, interesting Filter and Volume effects can be created

Note Length Sequencer

Changes the note length of each step up to 2X the current step size
Has an independent Step Length so that Poly-rhythms are possible
For best results turn the AMP Envelope/Filter Envelope Release times to a lowish number so that you can hear the results clearly

Host Tempo Divisions – The Tempo can be 1 Bar, ¼ Note, 1/8, 1/16, 1/32, 1/64, ¼ Triplet, 1/8 Triplet or 1/16 Triplet. All Sequencers use this Tempo
The Following Play Modes are available:

Forwards
Reverse
Alternate 1 (Forwards then Back)
Alternate 2 (Back then Forwards)
Random
Random Step

Mono Mode/Legato
Portamento with adjustable time
Unison with up to 8 Voices with adjustable Spread and Detune Amounts
A Single Instrument Version of Kosmos for each of the included Sampled Instruments with a selection of quick types such as Slow, Stab and Ambient for quickly building a starting point.
Automation and Midi Learn for most Parameters
Kontakt 3
542 Multi Sampled Instruments
6,474 Categorised Presets using a single instrument version of Kosmos for ease of editing
12 Polyphonic Kosmos Synths
12 Monophonic Kosmos Synths
4 Polyphonic Hybrid Kosmos Synths
4 Monophonic Hybrid Kosmos Synths
Installed Size: 2.66 GB
Download Size: 1.7 GB (Rar)
Infekted Vol 1 - Bass

143 Multi-Sampled Instruments
1,724 presets

Infekted Vol 2 - Leads

151 Multi-Sampled Instruments
1,723 Presets

Infekted Vol 3 - Synths

138 Multi-Sampled Instruments
1,668 Presets

Starburst K - Pads

110 Multi-Sampled Instruments
1,359 Presets

Each Collection includes:

6 Kosmos Synths (3 Polyphonic & 3 Monophonic)
Preset per sampled instrument in the following categories:

Legato
Mono
Octave +1
Poly Delay
Poly Dry
Poly Seq
Reverb
Slow
Stab
Unison
Additional Information