Kosmology – Space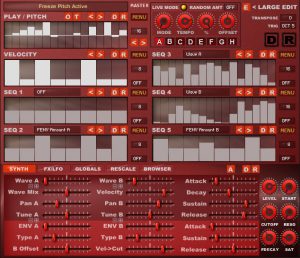 $39.99
Advanced Ambient sequencing for Kontakt 5
Product Description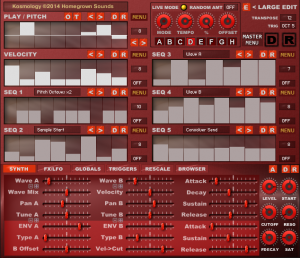 The 5th Kosmology Release has arrived, designed with both Kosmology and Metropolis in mind. In contrast to previous Kosmology Releases, Space is a more ambient soundset, the filter is less open and the instruments have been softened & effected. They are also designed with the new Metropolis script in mind to create a Playground for making interesting Pads. If you are new to Kosmology you can get FreeFall for free from here to experience Sequencing Heaven.
All 200 instruments are multi-sampled, using 4 samples per instrument at 24-bit. Whilst most sounds are chromatically useful, there are also plenty of FX instruments throughout the collection to add some nice surprises and interests whilst Wave Sequencing. Although Kosmology is not really about presets considering how easy and fun it is to make your own, there are Fifty Presets included and of course presets from other Kosmology Releases can also be opened.
Also introduced with Kosmology v1.2 is the new script Metropolis which dispenses with the Sequencers and Rescalers, but keeps the rest of Kosmology. This is useful for playing the Kosmology Sampled Instruments as traditional instruments and opens up a new world of creative possibilities for the Kosmology Sample sets. Like Kosmology it works with 8 instances which can be switched on the fly and so can be used to have radically different sounds or provide subtle changes such as different FX or Filter Settings. It is completely up to you, all 48 parameters can be completely different.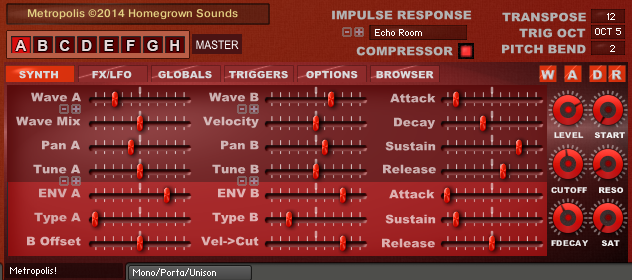 These Videos are using Kosmology Awakenings, but if you are new to it they give a good idea of what the Sequencer does:
Playing with Presets Video | Preset from Scratch Video |
Walkthrough 1 Video | Walkthrough 2 Video | Walkthrough 3 Video
Kosmology – The Script
Kosmology is inspired by Modular based sequencers with the aim of providing 8 completely distinct multi-sequencers which can be switched in real-time using 8 keys on your midi Keyboard. A Kosmology release includes the Sequencing Capabilities combined with a set of 200 multi-sampled instruments which form the basis of it's character. It mimics a classic dual oscillator synth structure in it's design with complete control over all parameters, and is also capable of Wave sequencing the Instruments. Although Kontakt is known more as a Sample Preset Plugin, Kosmology is akin to a hardware Groovebox with onboard sounds to sequence and manipulate in almost infinite ways.
Each of these 8 sequencers are known as instances and are made up of pitch, velocity and 5 freely assignable sequencers from a large list of destinations. Each Instance also has complete control over the 48 parameters which shape the sound, such as Filters, Envelopes, LFOs and FX, each instance can be a slight variation or radically different depending on how you want to use it. Each sub sequence has it's own step size and can be set to follow the main tempo division or use it's own for great Syncopation capabilities, and it is also polyphonic with each sequence retriggering when it is played and so good for complex polyrythms.
A lot of work has gone into making the workflow intuitive and quick, with copy & paste for the sequencers, and the current instance can be easily copied to another instance or to All Instances simultaneously with a single click. The latter is great for working on a base sequence and then when you are happy, copy to all and then work on variations. There are also Randomizers everywhere for quickly finding unexpected gems, in fact Kosmology excels at creating the unexpected via this method, but also provides ease when you know what you want to create. The creative possibilities are endless.
If you enjoy Performance Sequencers, you would be hard pushed to find a software system this flexible and fun.
Wave Sequencing
The Golden Crown of Kosmology is undoubtedly the fact that it can perform Wave Sequencing which means that you can assign a sequencer to select the currently playing instruments from all the included Sampled instruments. Both Synth A and B can be targeted individually which leads to instant satisfaction, creating an original sounding sequence can be as easy as selecting Wave A/B in a sequencer and hitting the Random Button.

There is also a Globals section which allows affecting 25 Parameters at the global Level, which can be automated in the host. These Parameters can add or remove from the current values, so as an example you could have a complex midi track in your DAW which switches between sequences rapidly and then automate a slow movement on the Cutoff Global which will open and close the filer regardless of which sequence is playing.
Kosmology Key Features:
V1.2 Adds the Metropolis Script – This is basically Kosmology without the Sequencers so that 8 distinct Instruments can be created and switched in real-time.
v 1.1 Adds Kosmology Single which uses a single synth as opposed to Dual
8 Instances that can be switched on the fly via Midi. each Instance has:

control over 48 Distinct Parameters which include Cutoff, Resonance, Filter and Amp Envelopes Envelopes (Attack, Decay, Sustain and Release), Filter Envelope Amounts, Octave, Various A/B Tune options, FX Sends plus more.
Pitch Sequencer – Offsets the root note by -+12 semitones and can Tie notes and mute them
Velocity Sequencer – Velocity in turn can be assigned to both Volume and/or the Filter Cutoff
5 assignable Sequencers – each of these sequencers can target any of the 46 available Destinations and can like the other synth parameters can be completely different for each of the 8 instances.
All sequencers have independent Clock Divisions
All sequencers have an independent Step Size (maximum 64 steps) which is great for Syncopation


Dual Synth Architecture - each synth has its own waveform (sampled Instrument), Filter Type, Pan, Tune and Envelope Depth.
FX Engine:

Convolution Reverb -Uses Kontakts Convolution engine with a selection of 50 unique Impulse Responses.
Standard Reverb – Also includes the older Kontakt Reverb which can work well in conjunction with the Convolver
Tempo Delay -Stereo Ping Pong Delay with adjustable tempo based times
Modulator – Has a choice between Flanger, Phaser or Chorus with adjustable LFO Frequency.
Echo – Can be used as a Comb effect (think Sabres of Paradise) or as a short non tempo delay.
Compressor
Saturation

2 tempo synched LFOs – LFO1 has a selection of 20 shapes, and can target Cutoff and Volume individually for both synths A and B, and Pitch B. LFO 2 is dedicated to the main Cutoff and locked to a RAMP shape and is great for the classic Rhythmic Sound.
Wave Sequencing – it is possible to target both synth destinations independently to switch waveforms on a step by step basis which leads to extremely sophisticated Sequences with very little effort.
Integrated Preset Browser and ability to save Presets and Templates.
Rescalers – Force notes to a Scale for each Note of the Octave
Randomizers – You can randomize everywhere
Large Screen editor – Allows working on the Pitch plus any other sequencer for easy Editing when needed
15 Timing Based Triggers for Live Manipulation including Freeze Pitch, Freeze Waveforms, Half Step, Double Step, Mute, Reverse, Max Note Length, Min Note Length plus more
25 Global Parameters for Automating across all Instances or radically transforming a Preset on the fly
3 Mod Triggers – You can offset up to 9 Parameters for each of these triggers for an instant remix via the assigned Midi Keys
-+1 Octave Triggers
Easy and Intuitive Workflow
Download Size – 800MB
Minimum Requirements – Native Instruments Kontakt 5.3 Full Version (will only work in Kontakt player for 15 minutes)
Additional Information