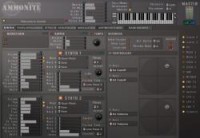 I've taken some time to simplify all the older products by updating them all to installers, in the future simply select your vstplugin folder and that's it. All products live in a HGSounds/Product Name directory, so if you use an installer and already have one installed you may need to manually delete the old version first.
Secondly Ammonite has been updated to v1.22:
Fixed a bug with the Microtonal Scale Menu.
Added a new Filter called 'Mellow LP' – It's an odd one which sounds a bit grungy and is not very resonant but it has an interesting character.
I've started working on an ARP update which will be released in the next few weeks, and I will also be tackling Vortex shortly afterwards.