This collection Combines all 8 Kosmology Releases and modernizes the Kosmology Instruments whilst also adding 8 Cassetto Based Instruments which further utilize the samples.
Included Scripted Instruments
8 x K6 Kosmology – New Kontakt 6 Version using a Large GUI and the excellent new Reverb and Delay plus a few more parameters.
8 x K5 Kosmology – Identical to K6 but compatible with Kontakt 5 and using the original FX.
8 x K6 Multiverse – A Pad based Synth designed for Randomizing usable Atmospheric Pads. The Kontakt 6 Version replaces the Convolver with the new K6 reverb and the Delay with Replika.
8 x K5 Multiverse – The same as Multiverse K6 but using the original Effects.
9 x K6 Cassetto Instruments – Special Version of the Cassetto Instrument which replaces the Samples with each volume in this Collection. Updated to use the new K6 FX.
9 x K5 Cassetto Instruments – As above but uses the original FX.
Legacy Instruments – The Original Versions of Kosmology, Multiverse, Cassetto Bootlegs, Kosmology Lite and Metropolis.
The new Instruments are compatible with old Presets although the Delay and Reverb May differ slightly.
Kosmology Freefall is available for Free which includes a Kosmology and Multiverse Instrument.
Included sample Collections
Analog – The sound of the Elektron Analog Four has entered the world of Kosmology. Even though the instruments are more on the experimental side compared to the previous Kosmology Releases, the end result is a quite surprisingly mellow sample set, filled with lots of movement and discovery when sequencing. These Instruments were designed specifically for use with Kosmology to bring some of the warmth and characteristics from the excellent sounding Analog Synthesizer, which has it's own very distinct character.
Awakenings – the intention was to design sounds which were capable of producing Synth Pop and Electro such as Grimes, Depeche Mode and Kraftwerk. They were produced with Wave Sequencing in mind to provide a rich palette to build rhythms with, and contain enough movement to be good for sequencing the Start Offset.
Dissonance – 200 wild, boisterous and clangy samples to discover crazy loops whilst Wave/Sample Start Sequencing. This collection is perfect for creating endless unique loops for use in all genres of Electronic Music.
Elementary – Whilst the trend nowadays is towards Analog Emulation, Elementary takes the opposite route and brings 467  'cheap' digital instruments into Kosmology. After initial tests it was found that these sounds bring a fantastic clarity, and for Wave Sequencing an excellent range of Timbres which work together extremely well! This is the largest Kosmology release yet with more than twice the instruments included in previous releases, and to get this number and keep the memory consumption down, they are limited to two multi-samples per instrument.
Evolution – designed using a DSI Evolver and takes advantage of both the Analog and the Digital side of this amazing instrument. All sounds were created from scratch for this collection and definitely bring the Evolver's unique 'sound' into Kosmology for Sequencing Fun.
Fusion – The Fusion Sample Collection was designed using a Dave Smith Instruments Mopho, capturing it's aggressive analog sound to the full. It's a very interesting addition to the Kosmology Collection and has a very different feel to all of the other releases.
Lumin – Lumin provides 200 multi-sampled Instruments designed and created with UHE Bazille and Waldorf Largo to provide a solid sounding instrument collection to feed the Kosmology script. Within Kosmology the sound of these two synths compliment each other very well when Wave Sequencing.
Space – In contrast to previous Kosmology Releases, Space is a more ambient soundset, the filter is less open and the instruments have been softened & effected.
Multiverse Script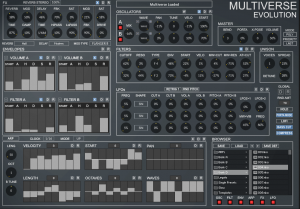 Multiverse is a scripted Instrument which emulates a dual oscillator synth design using the included sample collection as the sound source. The idea is that it is a fun and easy way to come up with unique sounds on the fly using the Randomizers, the Waveform randomize (W) being the most useful for quickly trying out pairs of waveforms and the Global Randomizer will Randomize all Random Enabled sections (X). This new version of Multiverse uses a Large single Panel GUI designed to be much more intuitive and logical to use compared to it's previous version.
Internal Preset System – a browser for loading & saving Presets easily – there are also previous/next buttons for cycling through presets after one has been selected. The preset browser has the ability to filter which parts of the presets are loaded, for instance you could just load the filter section when cycling through presets
Custom Default Instrument – used as the basis for all of the Default buttons
Single Panel Design – All controls are visible always.
Advanced Programmable Arpeggiator – Supports Sequencing Velocity, Start Position, Psn, Note Length, Octaves and A/B/Both Waveforms.
Dual Synth Design – Each Synth has a unique set of identical controls.
Mono/Unison/Portamento.
Effects – Both versions include Reverb, Delay a selectable Modulator, Saturation, Drive, Lofi, Bass Cut and a Compressor. The Kontakt 5 version uses a Convolver whereas the Kontakt 6 version uses the new Reverb and replaces the Delay with Replika.
Sample memory is automatically managed – only the used samples are loaded at any time.
Kosmology Script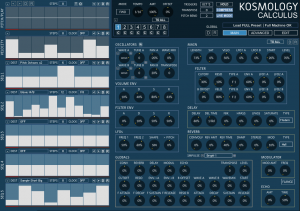 Kosmology is an Advanced Performance Sequencing Tool. In a nutshell you build up to 8 instances which can be switched and manipulated by a series of triggers in real-time. Each Instance contains a Pitch Sequencer, Velocity sequencer, 5 freely assignable Sequencers (from a list of 46 Destinations) and 48 Synth Parameters. Each Instance can have completely different settings and assignments, which gives an enormous amount of freedom for creating unique grooves.
The Golden Crown of Kosmology is undoubtedly the fact that it can perform Wave Sequencing which means that you can assign a sequencer to select the currently playing instruments from all the included Sampled instruments. Both Synth A and B can be targeted individually which leads to instant satisfaction, creating an original sounding sequence can be as easy as selecting Wave A/B in a sequencer and hitting the Random Button. There is a Globals section which allows affecting 25 Parameters at the global Level, which can be automated in the host. These Parameters can add or remove from the current values, so as an example you could have a complex midi track in your DAW which switches between sequences rapidly and then automate a slow movement on the Cutoff Global which will open and close the filer regardless of which sequence is playing.
Kosmology Key Features:
8 Instances that can be switched on the fly via Midi. each Instance has:

control over 48 Distinct Parameters which include Cutoff, Resonance, Filter and Amp Envelopes Envelopes (Attack, Decay, Sustain and Release), Filter Envelope Amounts, Octave, Various A/B Tune options, FX Sends plus more.
Pitch Sequencer – Offsets the root note by -+12 semitones and can Tie notes and mute them
Velocity Sequencer – Velocity in turn can be assigned to both Volume and/or the Filter Cutoff
5 assignable Sequencers – each of these sequencers can target any of the 46 available Destinations and can like the other synth parameters can be completely different for each of the 8 instances.
All sequencers have independent Clock Divisions
All sequencers have an independent Step Size (maximum 64 steps) which is great for Syncopation


Dual Synth Architecture – each synth has its own waveform (sampled Instrument), Filter Type, Pan, Tune and Envelope Depth.
FX Engine:

Convolution Reverb -Uses Kontakts Convolution engine with a selection of 50 unique Impulse Responses.
Standard Reverb – Also includes the older Kontakt Reverb which can work well in conjunction with the Convolver. K6 Version uses the New Room/Hall reverb.
Tempo Delay -Stereo Ping Pong Delay with adjustable tempo based times. K6 Uses the new Replika Delay with a choice of all 5 Modes.
Modulator – Has a choice between Flanger, Phaser or Chorus with adjustable LFO Frequency.
Echo – Can be used as a Comb effect (think Sabres of Paradise) or as a short non tempo delay.
Compressor
Saturation

2 tempo synced LFOs – LFO1 has a selection of 20 shapes, and can target Cutoff and Volume individually for both synths A and B, and Pitch B. LFO 2 is dedicated to the main Cutoff and locked to a RAMP shape and is great for the classic Rhythmic Sound.
Wave Sequencing – it is possible to target both synth destinations independently to switch waveforms on a step by step basis which leads to extremely sophisticated Sequences with very little effort.
Integrated Preset Browser and ability to save Presets and Templates.
Rescalers – Force notes to a Scale for each Note of the Octave
Randomizers – You can randomize everywhere
Large Screen editor – Allows working on the Pitch plus any other sequencer for easy Editing when needed
15 Timing Based Triggers for Live Manipulation including Freeze Pitch, Freeze Waveforms, Half Step, Double Step, Mute, Reverse, Max Note Length, Min Note Length plus more
25 Global Parameters for Automating across all Instances or radically transforming a Preset on the fly
3 Mod Triggers – You can offset up to 9 Parameters for each of these triggers for an instant remix via the assigned Midi Keys
-+1 Octave Triggers
Easy and Intuitive Workflow
Download Size – 7.45 GB
Minimum Requirements – Native Instruments Kontakt 5.3 Full Version (will only work in Kontakt player for 15 minutes)
Cassetto Script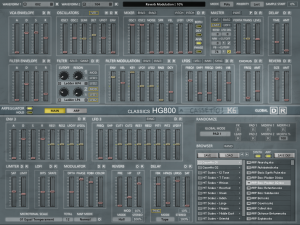 Newly created and updated version of the Cassetto Script. Cassetto is a is a dual oscillator Synth engine which excels at producing interesting Pads, atmospheres and ARP Sequences.
2 Oscillators with both multi-sampled cassette sampled sound and single cycle Waveforms (100 selections in total)
Noise Oscillator sampled from Tape
Unstable for warbling the oscillator pitch
Dual Filters with a large choice of filter types
Parallel Filters or One for each Oscillator
3 LFOs with 30 selectable Waveforms, LFO1/2 reset on note on, LFO3 is free running
Random LFO for the Filters
Filter Envelope for the Cutoff, Pitch and Optional Volume of Oscillator 2
VCA Envelope for Volume Control
Envelope 3 assignable to Resonance LFO1 speed and LFO 3 level
Reverb with 50 Impulse Responses
Delay
Modulator with a choice from Chorus, Flanger or Phaser
Versatile Arpeggiator with Sequencers for various parameters plus 6 Modulation Sequencers
various Chord Modes for the Arpeggiator
various Mod Sequencer Modes
Preset Browser with the ability to save presets
Global Randomizer and Default, with the ability to save you own Default preset.
Complete Microtuner System with 300+ Scales and scala support
Scale Re-Mapper with 78 Scales
Section Default and Randomizer buttons
400 Presets
FAQ
Q: What is the Difference between Kosmology Collection and Multiverse Collection seeing as they include the same Scripted Instruments?
A: Initially Kosmology and Multiverse were distinct Product Lines but at one point it made sense to add both scripts to both as it provided a very different way of exploring the underlying Samples. Because of this, the Kosmology Releases came with Kosmology Presets whereas. The Presets can be used in any Kosmology Release however, and now the releases have been combined into 2 Products, all available Presets are included by Default. The Second major difference is the sample Design. Kosmology Samples were more geared towards Sequencing, whereas Multiverse Samples were much more about creating interesting Pads and tend to be larger in size. Essentially now with these new Products, the only major difference is the Sample Content.
Only logged in customers who have purchased this product may leave a review.