ARP Stream is a modular style complex Sequencer with an Arpeggiator at it's core. It features many different ways of manipulating pitch and tempo which can all interact with each other which makes it fascinating to explore. It also has 3 CC Sequencers which can target any CC number and also includes a profile Editor for making your own specific correctly named profiles for hardware etc.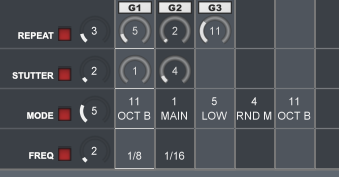 Altogether there are 11 Sequencers. The top 4 target the usual suspects; Trigger, velocity, Note Length and Octave Offset whereas the bottom 4 are where things start to get interesting. The Repeat Sequencer serves 2 purposes, the first is the ability to play sub Gate Sequences. Each Step allows selecting the number of repeats and which Grid will be used if any. Secondly Every other Sequencer has an 'RP' Button which when enabled will repeat 'X' Repeats before moving forward.
The Stutter Sequencer allows splitting up each step into up to 32 stutter repeats which can range from rhythmic repeats to glitchy. There is also a Fade button which will fade them out to create a delay type of effect.
The Mode Sequencer has 26 different options per step. The first 13 deal primarily with Pitch (with the exception of Chord) which includes play Lowest/Highest held Note, play an Octave below or a Power chord etc.. These modes are followed by time based Modes ('X/Y') which rotate through Y steps only playing X notes. So 2/3 will play the second count of each 3 counts. Finally there are some random percentage modes consisting of 25%, 50%, 75% and 90%.
The last Sequencer allows overriding the Main Frequency setting and can create some very experimental and chaotic Rhythms. Th standard straight Frequencies are all lined up at the beginning and then followed by more exotic clock divisions.
There is a sophisticated Randomizer System with lots of options including local and global Randomizers. It's a difficult machine to randomize really due to the potential for chaos everywhere in how everything combines so the Row randomizers are probably much more useful than the Global ones.

It uses 12 patterns each of which which is made up of all settings and they can be selected via the Midi Note Octave or via the GUI buttons.
Here is a video showing general usage to get an idea of the scope of the instrument: