Note: you need the full version Kontakt 5.7 or higher to use these instruments.
 Another chance to get the 2017/2018 Group Buy Instruments for a limited time. Like the current Circular Group Buy, all of these products were developed whilst the Group Buy was running. Whilst Augment, Destiny and Reanimator are available outside of this Group Buy, the other instruments are not and so is a rare opportunity to grab them. Includes 10 Instruments plus Sample Packs.
Augment
Augment began with the idea that it would be interesting to use Sequencers to manipulate Additive Partials in a rhythmic way, but it soon became apparent that it would be a much more interesting instrument using other waveforms as a huge 11 Layer Synthesizer. As a result Augment retains the additive mode but also uses 200 Waveforms which can be freely selected for each layer. The Waveforms are along the lines of PCM Synths of the past which have an Attack Section and a looped constant tone which works well as it allows the sounds to be more focused on Synthesis rather than sampling. The Attack Section can be disabled per Layer so they become pure tones.
As far as the Sequencing side of Augment goes, the intention was to have sounds which have highly rhythmic components which are locked to tempo. The idea that you have a Pad which will come alive with rhythmic complexity when played alongside other Rhythmic sounds was at the forefront of the design. The Sequence destination are Filter, Volume, Drive and Pan. All sequencers are monophonic with the exception of the Volume Sequencers which are Polyphonic.
Augment ALT
an alternative version of Augment which uses the waveforms from Destiny.
Destiny/Singularity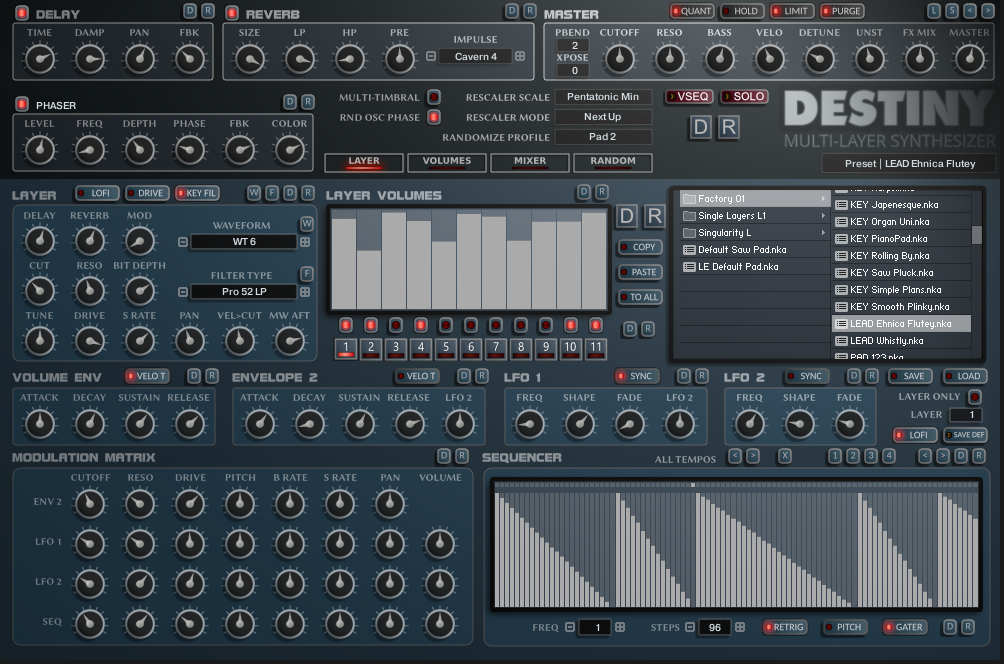 Destiny features 11 Layers each of which contains a Singularity Synth which is also included as a 2nd Synth. The Layers can either be stacked into a Multi Layer Synth or used as a Multi-Timbral Sound Module. Each Synth has 2 Envelopes, 2 LFOs, a Sequencer which are assigned to Destinations via a Modulation Matrix.
There are a set of Octave Triggers which use a selectable midi octave to trigger alternative layer Volume Levels in real-time. There is also a Sequencer which can be used to Sequence the triggers instead which can create some interesting Sequences.
A Destiny Preset contains a massive 884 parameters, and whilst the Layer view gives full control over a single Synth layer, it is also useful to have a way to see all similar parameters for all layers. This allows adjusting them against each, and so Destiny has the Mixer panel. From this Panel almost all Synth controls can be edited easily vi 5 Sub Panels as well as the Waveform, Filter type and other Layer options always being visible.
Reanimator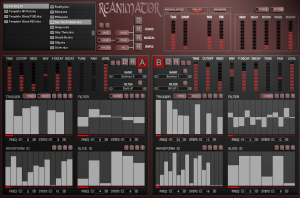 Reanimator is an advanced dual sequencer which re-sequences Loop Slices. there are 2 identical machines and each can sequence Trigger/Volume, Filter Cutoff, the Wave Index (which of the 126 loops in a bank will play) and which of the 16 Slices will play. This is a powerful and creative process which can yield surprising results. Furthermore, the Modulation Wheel is used to offset the current Wave Index for instantly remixing the Sequence, and it can also be used to find the most interesting variation and then by using the Set Wheel button store it to the sequencer.
The machines also can select a Filter type from a large list, loop Speed, set the Cutoff and Resonance, set the Filter Envelope amount and Decay time, the Volume Decay time, a 24 semitone pitch offset, Pan and Machine Volume. All of these parameters can be automated by the DAW which adds a lot of scope to the Instruments capabilities.
There are 3 banks which all use Loops made with a DSI Evolver which are all recorded at 100BPM. Reanimator uses time stretching so that it is possible to play the loops at a constant tempo and change the pitch, although the further you get away from the original pitch, the more artifacts will be heard which can be interesting. By default it uses kontakt High Quality algorithm which can get a bit CPU heavy with extreme speeding up or with high pitches, and so a second identical instrument is also included which uses normal Quality Time Stretching which uses less CPU.
ReaniTar
A version of Reanimator adapted for guitar and Sitar Loops.
ReaniDrum
A version of Reanimator  adapted for Drum and Percussion loops.
ReanimAir
A version of Reanimator which uses loops created from the Airwaves radio wave material.
Procession
A midi Sequencer for using Kontakt midi out with external instruments which is capable of complex rhythms. This doesn't have some of the the advanced features of the version that comes with Sequencer collection, but is unique in that all knobs can be automated in the DAW which the Advanced version cannot do.
Chord Stepper
A Midi Sequencer which is about sequencing Chord Chains. The Advanced version that comes with Sequencer collection has a couple of extra features, but this version is mostly the same.
Sample Packs
Also included are all the underlying Analog 4 and Evolver Loops from Reanimator, as well as the loops used in ReanimAir. They are in WAV format and have correctly embedded loop Information, ready to use in any DAW/Sampler.