Cassetto for Kontakt 5
$39.99
A Cassette based synth for Kontakt 5.5/5.6
Product Description
About Cassetto
The idea behind Cassetto was to create a synthesizer which has an old and slightly faulty sound as well as a fairly fixed yet interesting architecture. The end result is a synth with it's own character and capable of some very unique tones. Although Kontakt is often used for complex samples, Cassetto uses sampled oscillators so that it is a true synthesizer and all sounds are constructed in the same way as any other subtractive synth, it comes with 200 presets with more to come, however it is also a synth that invites you to make your own.
The Process
Firstly, I chose the Elektron Analogue Four for the Oscillators as it has a nice selection of strong analog waveforms. Each of the Raw Waveforms was then recorded note by note over 4 octaves onto a very old and well worn cassette. I have owned this cassette since at least 1987 as it had me playing guitar badly around that time, which was recorded over a Pet Shop Boys album funnily enough. It was the 3rd cassette I tried and had the most dropouts which is what I was looking for. This is the Cassette: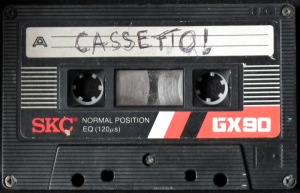 I had been looking for a suitable cassette deck for this project for a long while, and a friend came up with this one (JVC CD-1635 MK II) which is actually a really nice machine after bit of de-oxit, I'd already tried a couple of others with auto gain inputs which was a bit too extreme, I was after subtlety. Here is what it looks like (you can see the cassetto! cassette if you look closely).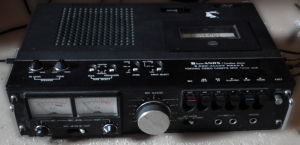 These were then recorded into the computer through a focusrite OctoPre and each 4 second sample was looped manually at different lengths to provide the multisampled oscillators. I was actually surprised how lovely they sounded once tamed by Filters. This is what some of the raw unfiltered waveforms sound like with random start time (phase).
It also occurred to me that it might be interesting to use some single cycle loops from clean recordings of the A4, which would add a whole other dimension to the sound possibilities, so I did this for 5 of them, and they sounded good and added a nice contrast to the tape Oscillators. I then finished off the oscillators by creating some detuned and mixed groups of the single cycles. I also tried to be a bit imprecise with the looping of the single cycles to give them a slightly detuned broken oscillator sound, although it is subtle.
The Synth Engine
I created a soundset for Bassline-101, and whilst working on it, I really came to appreciate the simplicity of the SH-101 design and so in my head that was the starting point for Cassetto. As you can probably see it went way beyond that simplicity, but I tried hard to keep to the idea of making it hard to make bad sounds which is the strong point of the 101. I just can't seem to keep things that simple…
My second thought was that I wanted it to be an instrument that Boards of Canada could use, I think out of any band they always seem to get sounds out of synths which is hard to describe, but to me always sound like childhood/Nostalgia. So, I had the cassette sampled oscillator, the next thing on my list was a way to warble the sound, a wow and flutter dodgy cassette sort of thing. On the synth it's called Unstable (UNST) and it works very nicely to create that feel. Finally I wanted to get some subtle saturation and most importantly sample rate/bit rate reduction in there, which is not only great for emulating digital gear, but it can make sound take on characteristics of Mellotrons and acoustic instruments sometimes. After some experimentation I decided to place it in between the 2 filters which leaves the option of having either a Low Pass in slot 2 for grit, or a High Pass for Noise and it works really well.
Initially I started with hard wired Serial Filters, but after trying out splitting the filters one to each oscillator it opened a whole new world I couldn't ignore, I followed that up with giving the ability to use the Filter envelope to control the Volume of Oscillator 2 and/or Noise. This just makes so many new sounds possible for the sake of a couple of buttons.
With the Arpeggiator I began by using the one I'd built for Multiverse, however I really wanted a Chord Mode and I ended up rebuilding it and so it does function slightly differently. It is basically a standard Arpeggiator with Sequencers grafted on, this can lead to some very complex polyrhythms. The other addition over the Multiverse ARP is the 16 note Pitch Sequencer which if you play a single Note behaves like a classic Sequencer.
Highlights
2 Oscillators with both multi-sampled cassette sampled sound and single cycle Waveforms (100 selections in total)
Noise Oscillator sampled from Tape
Unstable for warbling the oscillator pitch
Dual Filters with a large choice of filter types
Parallel Filters or One for each Oscillator
3 LFOs with 30 selectable Waveforms, LFO1/2 reset on note on, LFO3 is free running
Random LFO for the Filters
Filter Envelope for the Cutoff, Pitch and Optional Volume of Oscillator 2
VCA Envelope for Volume Control
Envelope 3 assignable to Resonance LFO1 speed and LFO 3 level
Reverb with 50 Impulse Responses
Delay
Modulator with a choice from Chorus, Flanger or Phaser
Versatile Arpeggiator with Sequencers for various parameters plus 6 Modulation Sequencers
various Chord Modes for the Arpeggiator
various Mod Sequencer Modes
Preset Browser with the ability to save presets
Global Randomizer and Default, with the ability to save you own Default preset.
Complete Microtuner System with 300+ Scales and scala support
Scale Re-Mapper with 78 Scales
Section Default and Randomizer buttons
400 Presets
IMPORTANT: You must have the full version of Kontakt 5.6 to use Cassetto or Kontakt 5.5 to use Micro Cassetto, they will not load in earlier versions. They will also only work for 15 minutes in the player.
News
Cassetto v1.65
Fixed an issue with Legato not loading correctly
Added an adjustable amount for the Random Morph modes so that the intensity can be adjusted.
Added more Presets, Cassetto now comes with 400 Presets.
Cassetto v1.6
Added 2 Global Randomizer Modes that are more suited to Pads, you can select which is used by the Global Randomize Button on the Advanced Page.
Added a Global Randomizer Mode that is suitable for Leads.
Added 3 Morph Randomizer Modes that Morph the sound away from the current Settings.
Fixed an issue where Legato and mono became non selectable.
Added more Presets.
Cassetto v1.5
Added Mute Buttons to Oscillators, these are temporary and reset when Cassetto is reloaded. They are used for isolating an oscillator when sound designing.
Added 16 Mod sequencer Modes to the Arp. These make use of the Pitch, Cutoff, Resonance, Decay and Release Sequencers without triggering any notes. It means that these sequencers can be used whilst playing notes normally.
Added a Menu for the ARP Modes which makes selecting easier and the selected mode can always be seen.
Cassetto v1.4
Added Randomize Waves on Load Preset – An interesting alternative when scrolling through the Presets.
Replaced the loaded Wave displays with menus so that they can be selected via the menu as well as the slider and -+ buttons.
Added a Microtonal Engine that loads Microtonal presets through the existing browser.
Ability to intelligently map scales of less than 2 octaves to 12 note mappings so that they make more sense on a standard Keyboard.
Support for scales up to 88 notes in size.
Support for Scales that span multiple octaves in total range as well as the more common 1 octave interval scales.
Added an online facility to convert most Scala (.scl) Files to Cassetto format.
300+ Scales included
Cassetto updated to v1.3
Improved the Visibility of the Information Panel
Length Mode for the ARP Chord Modes that only triggers new notes if they are not already playing, using the length slider can create some interesting rhythmic results, and can be automated.
3 Root Modes for the ARP where the Root note decides the Key and Scale that all other Notes pass through.
"High & CHORD ARP" Mode Added – Lowest Note plays the Pitch Sequence, other notes play without Pitch sequencer
"Low & CHORD ARP" Mode Added – Lowest Note plays the Pitch Sequence, other notes play without Pitch sequencer
Scale Re-mapper added to to the ARP Pitch output
Each Sequencer now has a Repeat Button which will cause each step to repeat x times before moving on. The Repeat Time is set by the Repeat Slider which previously only affected Pitch.
Added Modulation Sequencers to the ARP for Filter 1 & 2, Resonance 1 & 2, Filter Decay and Volume Release.
Percentage Knob for controlling the overall level of the Modulation Sequencers.
Sustain Pedal Now works as expected when the ARP is disabled
Added 22 Custom LFO Shapes
12 Multi Waveforms using multiple single cycles added to the Waveform Selections
Panel Selection is now sticky and can be saved by Saving the Cassetto nki
Fixed a bug where negative Keyboard → Filter didn't invert
Fixed a bug where the display flickered occasionally
Fixed a bug where the ARP length when extreme could cause polyphony runaway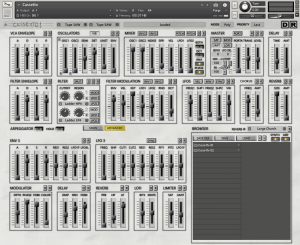 Cassetto updated to v1.2:
Added Filter Swap Button which exchanges the settings of the filters
Added Buttons to assign LFO→Volume amounts to pitch instead
Sequencer Lights now switch off when no notes are playing
Added LFO Sync Mode
Added Advanced Panel with extra controls for FX
Added LFO3 with destinations for Resonance 1 & 2, Filter 1 & 2 and LFO1 Frequency
Added ENV3 with destinations for Resonance 1 & 2, Filter 1 & 2, LFO1 Frequency and LFO3 Level.
No Purge Option added ('P' next to 'D' in the master section
Oscillator Waves now have a randomizer each
Improved delay contamination when changing presets
Some sliders can now have negative values so that 0 is the centre, a black mark at the centre of the scale shows this.
Added Micro Cassetto, a smaller version which is identical feature-wise yet
compatible with Kontakt 5.5
63 Digital Single Cycle Waveform Added
Added some Dotted Tempo values to ARP Tempo
Fixed an issue where HOLD and As Played didn't work correctly
Increased ARP Length to 300%
Decreased CPU Usage significantly and raised Polyphony to 64
Improved GUI slightly
Fixed an issue with Automation in Ableton Live
A few more presets demonstrating the new Waveforms
Additional Information