Transform your Sample collection into Sample kits for your sampler!
Kit Creator is a program for Windows/Mac that automatically generates Sample Kits of 16 samples for various Drum Samplers/Samplers. It can also do basic conversion between many of the supported formats. You can drag & drop up to 16 Directories that contain samples and assign them as sample sources for each Pad. As well as assigning samples, parameters can also be randomised with definable min/max ranges. Volume, Pan and Release Time are supported.
Supported Formats:

HERE is an example of the Kit Creator Exported Presets, it contains 5 Kits in every supported format using some of the Vibrations samples. This will give you a very clear idea of what Kit Creator produces.
Features
SOURCE – Up to 16 recursively scanned Folders can be added via drag & drop and each assigned to any Pads.
TEMPLATES –  Add as many existing presets to use as templates for each format as you want. This allows creating complex instrument and the samples/selected parameters that Kit Creator supports will be changed. You can use a single template, cycle through all, or use a random Template.
FOLDER ASSIGN – Folders are added via Drag & Drop and scanned recursively. There are 2 different views for assigning Folders to Pads, the PADS panel allows clicking a pad & selecting the folders to assign, whereas the FOLDERS panel shows a Matrix for seeing all assignments at once.
PARAMETERS – This panel allows assigning minimum & maximum values for the generated random values for each pad.
PRESETS – Saving the total state of Kit Creator to a preset is supported, so you can recall different profiles.
THEMING – The theming system supports 24 definable colours which can be saved as a theme, a few themes are included.
PROCESSING – This panel is where the export settings are located and the preset creation takes place.

CREATE – Creates new presets based on the selected settings to all selected formats.
CONVERT – This allows basic conversion between most of the supported formats. The conversion is based around what Kit Creator deals with, the lowest denominator is Sitala which supports 16 single samples. Kit creator always deals with 16 samples, volume, pan & release parameters. It isn't intended as a full on Converter for general presets, although it will work for the mentioned parameters.
UTILITIES – This page can edit existing files by editing the volume, pan & Release values in different ways, such as reducing by 10%. There is also a text based search & replace which works with the raw text files & so can be useful for replacing sample paths for example.
SIMPLE MODE – Exports most formats & samples to an organised portable folder which uses relative paths (MPC & Ableton live excluded).
ADVANCED MODE – Individual control over each types paths & options.

RANDOM NAME GENERATOR – A database of 30,000 words can be used to generate random names which can produce some amusing names. A 3 digit numeric name can also used in conjunction or instead.
REQUIREMENTS – 64-bit Windows or 64-bit Apple M1/Intel.
VIDEO
Here's  a  brief video showing how it works, the video is very out of date but it shows the gist. A new video will be coming when v1.0 is released which is very close now.
Pads Panel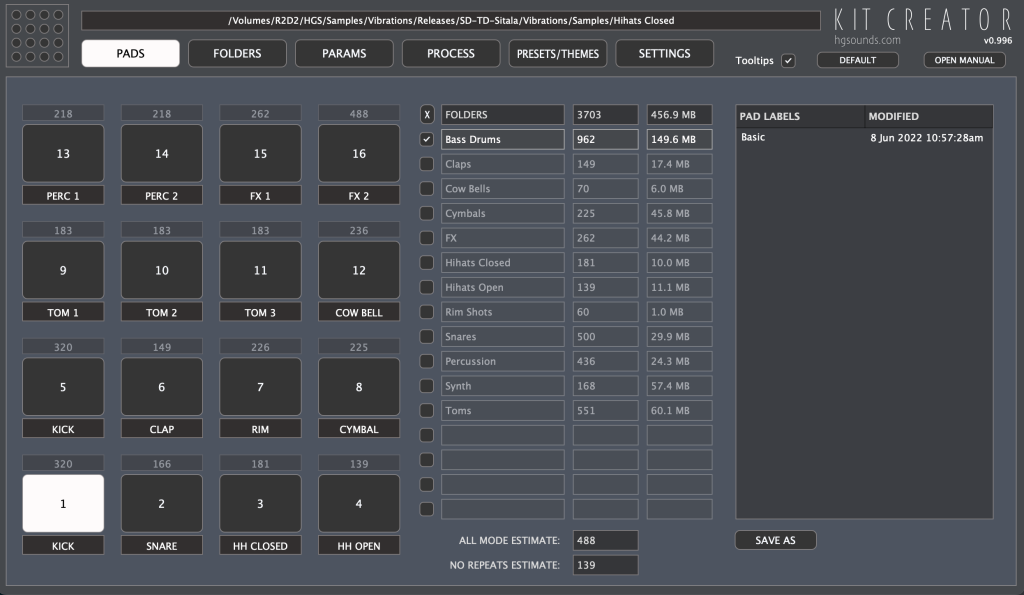 You can drop folders here, click on a Pad and tick the folders you want assigned to it. Hovering over a Folder will highlight all pads it is assigned to.
Params Panel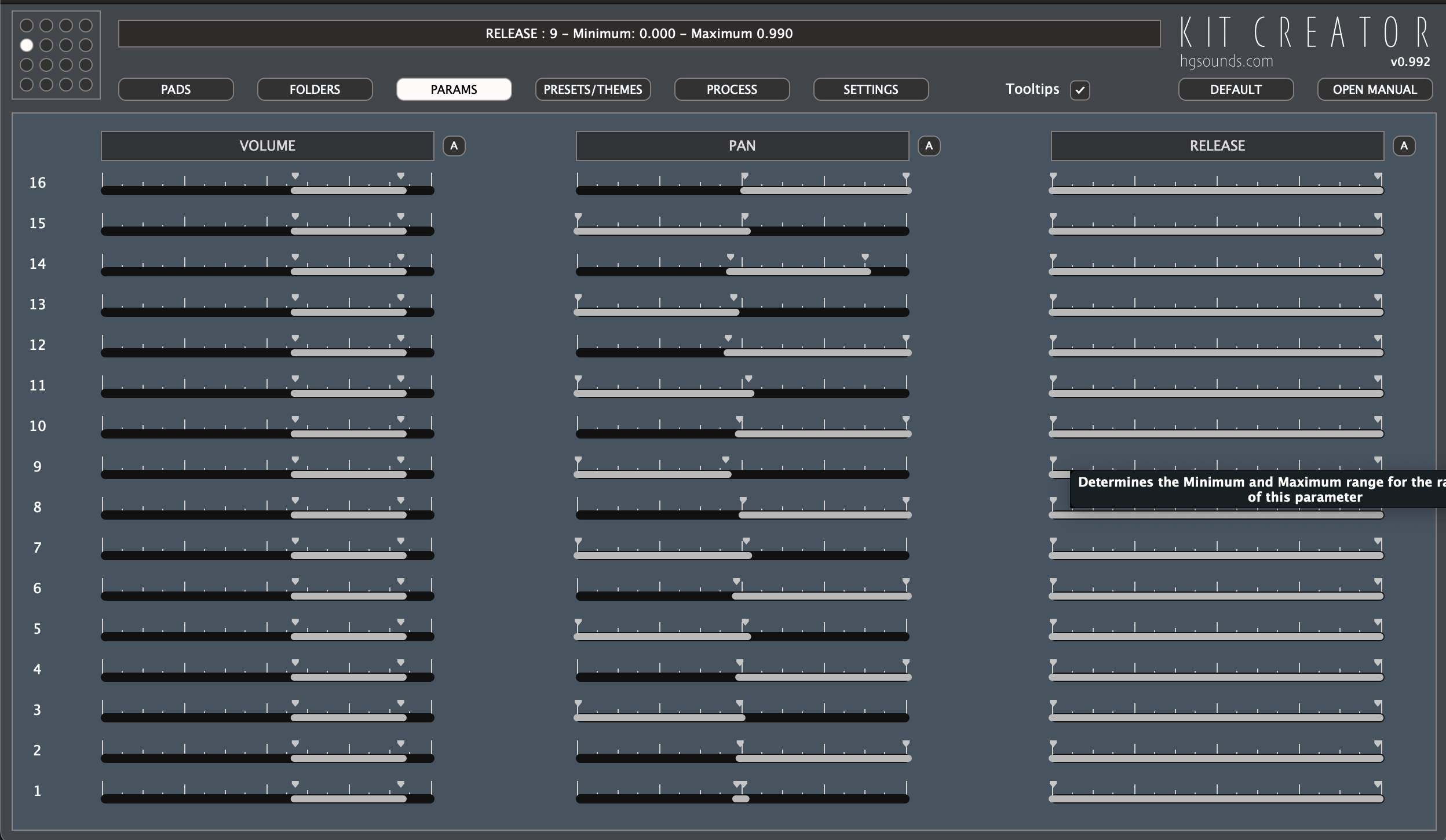 You can select the minimum and maximum ranges for the parameters on this page that will be used by the randomizer when creating presets.
Create Panel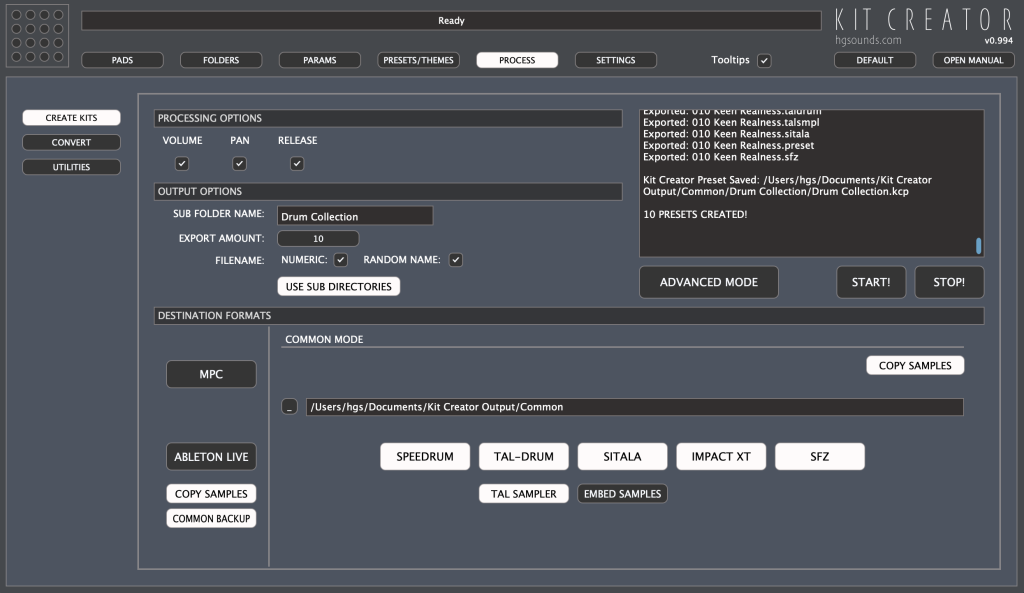 When you've added folders and assigned them, you decide which formats you want to export to and click Start and Kit creator will create the presets.
Convert Panel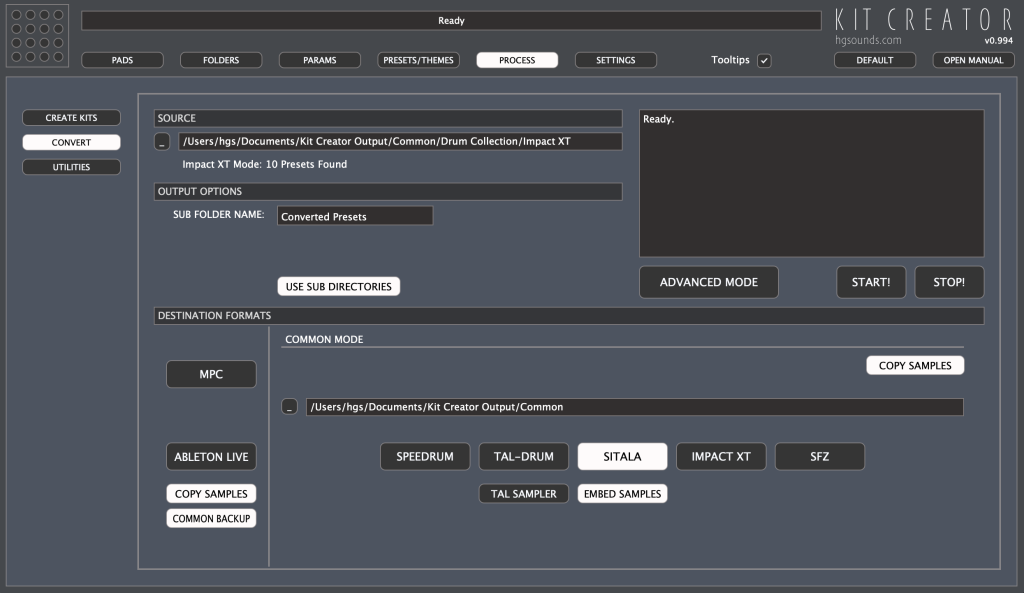 Most supported formats can be converted to each other (with the exception of SFZ & TAL-Sampler which are only destination formats). The conversion is limited to Kit Creators supported parameters which is 16 pads with a sample each, volume, pan & release parameters. These values are extracted & a preset is created using the chosen template.
If building presets with these constraints in mind, you can build them in one of the supported drum Samplers & then export to all other formats.
Utilities Panel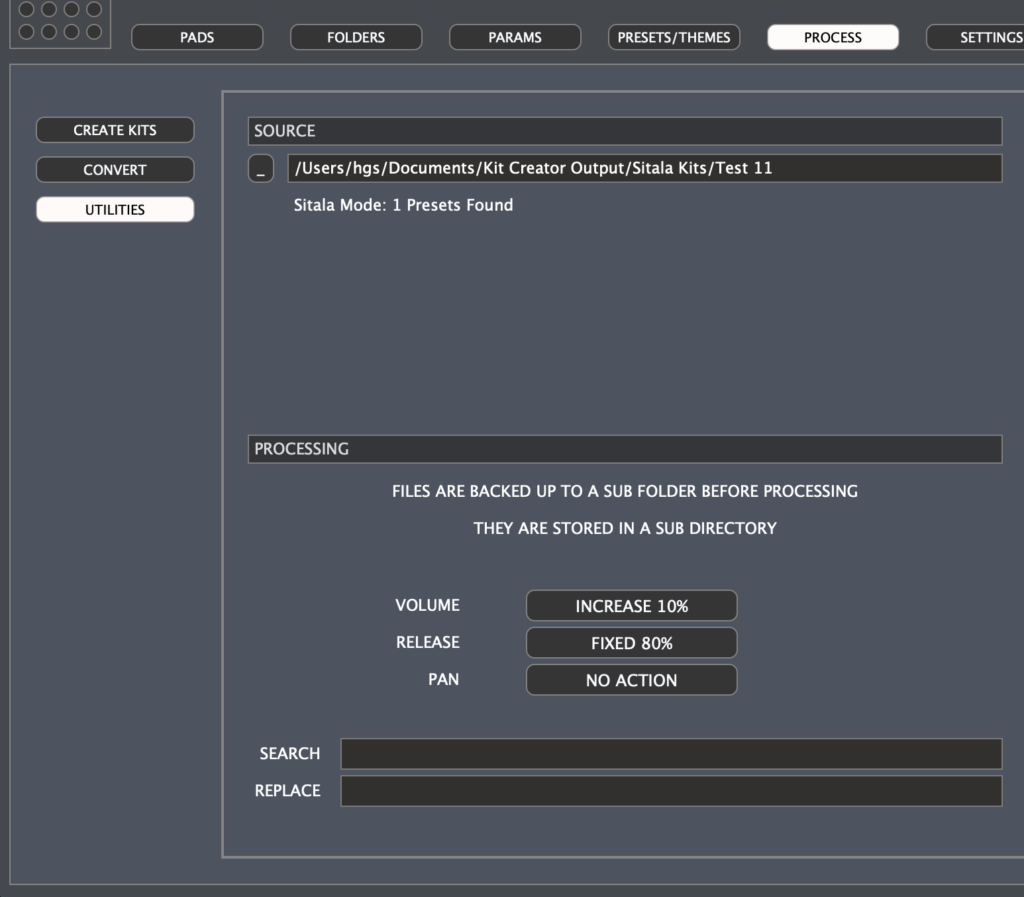 The Utilities Panel allows batch editing a folder of any supported presets. It allows editing Volume, Release & Pan parameters either by regenerating new ones (from the PARAMS settings), increasing/decreasing by a percentage or setting a fixed value. There is also a text search & replace which operates on the raw text of the preset, this is useful if you want to change a path in the case samples have moved for example.Unlike convert, this mode does not use templates but makes changes to the existing file only changing existing parameters.
Supported Formats
Akai MPC
Support for all Modern MPCs (Live, ONE, Keys & X) as well as Beats and MPC Software.
Ableton Live Drum Rack
The Ableton Live Drum Sampler.
Apisonic Labs Speedrum
A full featured Drum plug-in.
TAL-Drum
TAL's take on the Pad based sampler is as good as you would expect.
Decomposer Sitala
Completely Free Pad based Sampler, which means anyone can make use of Kit creator if they don't own one of the others.  It has a simple interface yet is a powerful 16 pad sampler with 16 individual outputs.
Presonus Impact XT
Impact XT comes built into Studio One & is a full featured drum sampler.
TAL-Sampler
Basic sample mapping support is available when exporting to TAL-Drum, Sampler presets can also be created.
SFZ
Generic sample mapping format which many samplers can import.