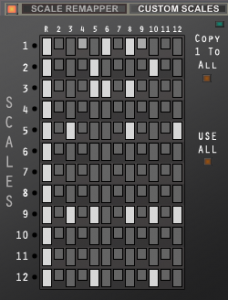 ARP VSTi Page
V1.7
New Sequencer GUI – A purpose built interface has replaced the old sliders on the main sequencer.

Muters – This row has now been integrated into the main Sequencer Display so that when muters are enabled only playing notes are visible. Clicking on a disabled slot will add a note and double clicking will remove an existing note.
Velocity – The velocity Sequencer from the modulation Page is now overlayed on the main Sequencer Display when it is enabled. Clicking right side of the step will allow editing the value, or alternatively holding CTRL will override note editing so that only velocities are edited. The old Velocity Sequencer is still available for people who still want to use it. The Enable button has also been duplicated to the main screen.
Ties – When a Tie is in effect, the note will be turn green so that they can easily be seen.

Custom Scales – A new section is now available on the Scale Remapper which allows editing of 12 custom scales. These can either be selected via any of the Scale Menus, or alternatively there is a 'Use All' button which will instantly load Custom Scales 1-12 to the corresponding menus. When using the latter method it is then possible to have total control over all scales for each note and so they can be edited on the fly. The Use All button has also been duplicated on the main screen at the top of the Scales column.
Studio One – Fixed a crash which happened at startup with some users of Studio One.