October 16, 2016, 1:10 pm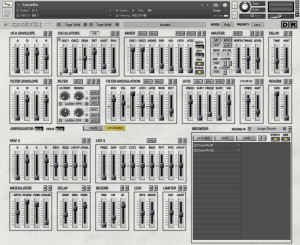 Cassetto has been reviewed on Producer Spot. and gets a major update adding a 3rd Envelope and LFO with some interesting destinations. The introductory group buy is now halfway and currently has achieved 3 bonus products with the new option to buy multiple credits for further bonus products.
Cassetto v1.2:
Added Filter Swap Button which exchanges the settings of the filters
Added Buttons to assign LFO→Volume amounts to pitch instead
Sequencer Lights now switch off when no notes are playing
Added LFO Sync Mode
Added Advanced Panel with extra controls for FX
Added LFO3 with destinations for Resonance 1 & 2, Filter 1 & 2 and LFO1 Frequency
Added ENV3 with destinations for Resonance 1 & 2, Filter 1 & 2, LFO1 Frequency and LFO3 Level.
No Purge Option added ('P' next to 'D' in the master section
Oscillator Waves now have a randomizer each
Improved delay contamination when changing presets
Some sliders can now have negative values so that 0 is the centre, a black mark at the centre of the scale shows this.