NOTE: The Full Version of Kontakt 5 or above is needed to run these Instruments, they will not work in the player.
This collection of Instruments was developed for the Circular Group Buy 2018/19, a large collection of 14 diverse Instruments.
Circular
A Synthesizer based on Cycling Waveforms per step including an Advanced Arpeggiator. See Bottom for full details.
Mosaic & Bass Loops
A Selection of 700 Bass Loops recorded using a Fender Squier PJ Bass, and a Revelation PJ Bass. NEW: Mosaic has been developed as a front end to the samples, it is along the lines of Reanimator but has many unique features including the ability to automate all Knobs in the DAW.
Mosaic Guitar/Regenerate/Reanitar II
3 Sequenced instruments based around an exclusive set of 635 Guitar loops. The Guitar sounds includes 2 Banks made with a customized Fretless guitar, many using an E-Bow. Each sequencer remixes and mangles the loops in different creative ways.
Magic Thread & ReaniBass
Magic Thread has 12 Patterns and 12 Variations which can be triggered via 2 Octaves of midi note triggers. A variation is a set of all the red titled sliders which can transform the sound in radical ways. It's a powerful machine and having the separation of sound parameters and patterns leads to almost endless creative possibilities. The Bass Loops are joined with Reanimator to create an interesting Loop Mangler. This is probably the strangest Reanimator offshoot yet, it doesn't really sound like Bass often.
Synthetic and Tessellate
Using the engines from Mosaic and Magic Thread, these 2 instruments use the Synth Loops from Reanimator for Sequencing goodness.
Succession FM sequenced Synth & Continuity FM
Succession FM uses the Sequencing engine from Procession Advanced and integrates 4 internal Synthesizers for Multi-Timbral operation. Each sequencer can target any or all of the Synths bringing lots of Flexibility. It's also capable of Wave Sequencing. Here is a walkthrough Video:
Continuity FM
Ambient Synth using the Succession FM Waveforms.
Midi ARP
Advanced midi ARP using 6 Sequencers for Velocity/Trigger and 12 patterns. Many modes are included including Chord Mode. Each Pattern contains all Parameters. It has an extensive randomization system as well as a Remix function.
DrumScape
A Modular style advanced Drum Sequencer, using 5 Rows x 8 Sequencers as well as 8 assignable Sub Sequencers:
Drum Module
An Instrument as a partner for drumScape, a way of creating kits from the drum banks/samples for use for external Sequencers so that the drum Hits can be directly played via Midi.
About Circular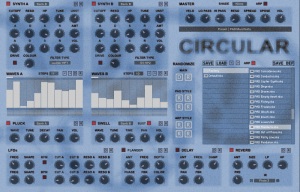 The initial idea behind Circular was to have oscillators which would play a different Waveform per Step. It turned out to be interesting, but I found that it needed something else to contrast the effect. After much experimentation with various ideas I opted for a Pluck Oscillator and a Swell/Fade In Oscillator which gave some much needed consistency to the rotating Waveforms of the main two Synths. I initially tried them with the same Filter and Mods, but in end decided to go along the lines of pre-filter digital synths from the 80s which rely on the actual waveforms brightness. I think this works great whilst the main two synth take care of the busy and complex sounds.
The Synth has no Panels and so everything can always be seen which makes editing easy and intuitive. However I thought that it's a shame to not have any sort of Sequencing as it's interesting with the Wave Cycling, and so decided to make an Arpeggiator in a different Script slot. It's an Advanced ARP with dedicated Sequencers for Velocity/Play, Note Length as well as both Cutoff and Resonances of Circular. Although it is a separate Script, the main Circular Preset system is used to store the ARP preset too, so that a complete Preset can be used. However there is also a Browser for the ARP which will just load the ARP portion of the Preset without changing the sound of Circular.
Pads Demonstration
ARPs Demonstration