February 2, 2018, 9:16 am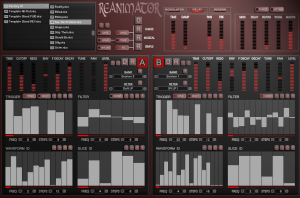 About Reanimator
Reanimator is an advanced dual sequencer which re-sequences Loop Slices. there are 2 identical machines and each can sequence Trigger/Volume, Filter Cutoff, the Wave Index (which of the 126 loops in a bank will play) and which of the 16 Slices will play. This is a powerful and creative process which can yield surprising results. Furthermore, the Modulation Wheel is used to offset the current Wave Index for instantly remixing the Sequence, and it can also be used to find the most interesting variation and then by using the Set Wheel button store it to the sequencer..
The machines also can select a Filter type from a large list, loop Speed, set the Cutoff and Resonance, set the Filter Envelope amount and Decay time, the Volume Decay time, a 24 semitone pitch offset, Pan and Machine Volume. All of these parameters can be automated by the DAW which adds a lot of scope to the Instruments capabilities.
There are 3 banks which all use Loops made with a DSI Evolver which are all recorded at 100BPM. Reanimator uses time stretching so that it is possible to play the loops at a constant tempo and change the pitch, although the further you get away from the original pitch, the more artefacts will be heard which can be interesting. By default it uses kontakt High Quality algorithm which can get a bit CPU heavy with extreme speeding up or with high pitches, and so a second identical instrument is also included which uses normal Quality Time Stretching which uses less CPU.
Reanimator also includes an FX Section with Reverb + a selection of Impulse Responses, Stereo Clocked delay and a choice of Flanger, Phaser or Chorus. There are Randomizers at the local and Global level tuned to give interesting results, as well as a Default system which can be customized. Finally it has it's own preset system which is always visible ready to load or save presets.
Reanimator costs $39.99 and a later update will introduce more banks of loops created with an Analog Four Synthesizer when the Group Buy reaches that stage.