March 29, 2019, 6:45 am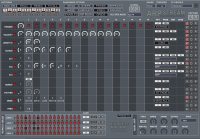 ARP Stream is a modular style complex Sequencer with an Arpeggiator at it's core. It features many different ways of manipulating pitch and tempo which can all interact with each other which makes it fascinating to explore. It also has 3 CC Sequencers which can target any CC number and also includes a profile Editor for making your own specific correctly named profiles for hardware etc.
Altogether there are 11 Sequencers. The top 4 target the usual suspects; Trigger, velocity, Note Length and Octave Offset whereas the bottom 4 are where things start to get interesting. The Repeat Sequencer serves 2 purposes, the first is the ability to play sub Gate Sequences. Each Step allows selecting the number of repeats and which Grid will be used if any. Secondly Every other Sequencer has an 'RP' Button which when enabled will repeat 'X' Repeats before moving forward.