March 11, 2019, 6:49 pm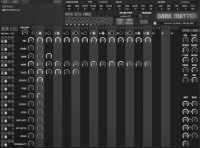 Dark Matter is updated to v1.1:
 Added the 'Red Matter' Instrument which uses a standard Pattern based System rather than Snapshots
Random Volume Sequencer now disregards the 'Full V' setting.
Added Copy To All and Remix functions.
Added Row options Menu
Random Slice now quantized to 1/4 to make them more useful especially for Drums.
Added ALT/OPTION Vertical Editing for all Pattern knobs, Sequencer Rows still behave the same as they did previously.
Succession Pro updated to v1.22:
 Added Light Indicators for the Mute Triggers