August 25, 2022, 1:44 am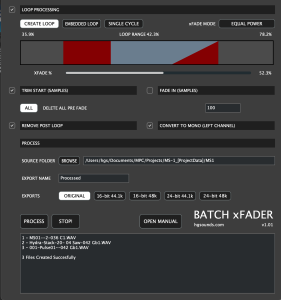 This is quite a major update, single cycle mode really expands the program's usefulness!
Single Cycle Export Mode Added – locates a positive zero crossing in the centre of the file, sets the end to the correct number of samples for the given midi note & then scans for the next negative zero crossing. For the midi note, it can either be embedded or in the filename.
Loops now quantise to the nearest multiples of frequency if the filename has a midi Note number or embedded note number in the smpl header.
Loop section now looks for positive zero crossing at the start & negative at the end which can help with phase issues & also setting xFade amount to zero will now bypass the xFade altogether. If you have constant material this can perhaps create seamless loops if single cycle mode is not sufficient.
Added xFade Mode menu with a choice between Equal Power, Linear, & 3 S Curve modes.
Fixed: Trim Start 'All' ignored the Trim Start enable.
Fixed: occasional small click on some loops.
Fixed: The Fade in sample amount was left when using 'Delete All' even though 'Fade In' was disabled.