January 18, 2019, 12:53 am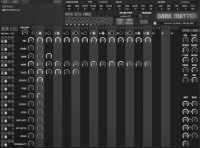 Dark Matter is an Advanced Loop Re-Sequencer which works with tempo synced Loops in a variety of ways. It has 13 Sequencer Rows and uses 889 loops across 7 Banks at it's core which includes Synth Sequences, Morphing Sounds, Radio Sounds, Drum Hits and Loops. Sections of any of these can be selected on each step using the Slice Sequencer which allows and of 16 start points to be chosen. There are also 22 modes for each bank that include things such as LFO Chops and reverse modes.
The Main Sequencer can have different step lengths per Row which allows building complex polyrhythmic sequences easily and quickly. It can run freestyle or be forced to reset every X steps. A major focus of the sequencer is that every knob can be recorded as DAW automation so it is possible to evolve a sequence throughout a mix.
There is also a snapshot feature which features 12 virtual Sequences which can be copied from the main Sequencer. They are either triggered via a dedicated octave of Midi Triggers, or the buttons can be automated. The send to snapshot buttons can also be automated and so there is the creative freedom to make snapshots as part of the performance.
The snapshots are rolled out to 16 steps from the polyrhythmic sequence, which means they are always in sync. Also Because shifting a polyrhythmic sequence left/right is impossible should you want to change the start step, it can be copied to a snapshot, shifted and sent back which works most of the time. There are two playback modes defined by the Edit switch. With the edit switch off, the knobs of the main Sequence are hidden but the snapshot will play back meaning that Automation will not overwrite the snapshot. When not automating edit mode provides full editing so it can be used more like a traditional pattern Sequencer.
There are Randomizers for every row and column and lots of Randomize custom options. It also has a feature for adding random values to a row and a probability to determine how often it happens. There is also a Probability Row which determines how often selected steps will trigger.