December 4, 2018, 9:24 pm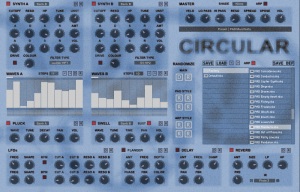 This years Group Buy has the potential to achieve a total of 15 Products for just $19.99. There are six Kontakt Instruments which will be developed throughout the Group Buy which include Synths, Loop Manglers, a Midi ARP, and a Drum Machine. Circular, a synth which is based around cycling different Waveforms per note is immediately available to kick things off. As well as the Kontakt Instruments, 5 Levels will unlock Bonus Product credits  which can be used choose from a range of 56 products from the back catalogue. The products range from Kontakt Instruments to Synth Presets, Sampled content to VST Instruments. Even if you don't use Kontakt it can be worthwhile to join to get a potential 5 products you may be interested in.
These Group Buys are now becoming an annual event beginning with Cassetto and last years Augment. Because the instruments are developed as the Group Buy progresses, it is estimated that it will run for 3 months to give enough time to complete all of the development. Last year ran at a steady pace so that products were always available as the level was reached, each product is developed in series and will hopefully be ready for each level. Last year saw some great ideas come up through the discussion thread which helped to shape the final instruments, which makes it an interactive experience for those interested.
All Kontakt Instruments require the full version of Kontakt 5 or later and will not run in the player.