December 27, 2021, 1:26 pm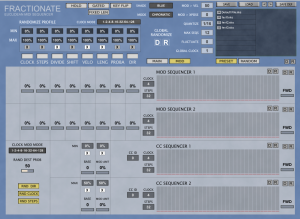 Fractionate v1.1 update:
Added 2 Modulation Sequencers which can modulate the main sequence parameters.
Added min and max settings to the randomization profile for the Modulation amount knobs.
Added 2 dedicated CC Sequencers with CCID, Base Value and Amount.
GUI changes.
Added Mod Wheel to Octave Transpose for transposing the whole sequence by octaves in real-time.
Simple BPM Mode replaced by various Clock options menu.
Added a Fixed length parameter so that Length is always the same regardless of Clock settings.
Changed 'BPM' to clock which makes more sense because it is a clock divider based on BPM rather the BPM.