May 28, 2022, 4:30 pm
v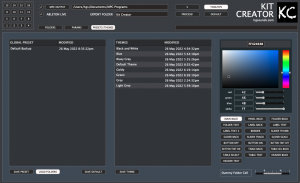 0.961
Fixed issue with crashes related to aif cache files or other non audio files with .aif + further extension.
Added Version Number to the Logo Display.
v0.96
Folder Tooltip now shows full Folder path in case it's too long to fit and the Folder field truncates the path so you can always see the end Folder. This also applies to the MPC output field.
Option to disable copying samples for Live Kits so the kit points to their current location instead. Note that this isn't possible for MPC as Programs and samples have to be in the same folder.
Boiler Plate code implemented, I've hopefully covered all scenarios now.
Scan logging implemented. Each time process is started log.txt is cleared & created in documents/Homegrown Sounds/Kit Creator.
Improved the Collection name text editor so that it saves correctly on enter and restores previous name on escape.
Fixed the scan message not displaying.
Added Reveal buttons for opening the destination folders in Finder/Explorer.