June 19, 2022, 1:36 pm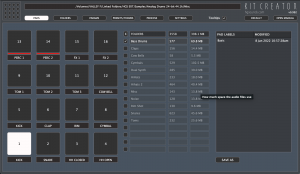 This is a big update that's seen a huge amount of work in terms of restructuring into a modular system and refining the small things. I think this really should be v1.0 but I want to see if anyone has any feedback. The formats conversion is still to come but that shouldn't impact any existing features.
v0.99
Added a new Pad Screen which shows which allows clicking on a pad and showing/enabling which of the folders are assigned. Pads can also be labelled and saved as label presets.

Pads will display folders faded if they do not have any folders assigned. Folders will be faded if they are not assigned to currently selected Pad.
Pad Screen allows drag & dropping multiple folders and drag & drop re-ordering.
Pad Panel shows which pads a folder is assigned to when hovering over a folder.

Folder Displays now have a right click menu that provides various options such as remove, clear, copy Path & open in Finder/Explorer.
Processing Panel added and all previous top controls moved to it, it has a modular design so different inputs, tasks and outputs can be assigned now as they are developed.
Possibility to randomize Volume, Pan and Release in existing folders of files.
Added options to enable/disable the numeric/Random name generators.
Numeric name now counts existing files and starts numbering at total+1.
Added Folder Size Display to Folders Panel and total at the top.
Folder Highlight Colour added to themes.
Folder Border added to themes.
Added Mouse Over highlight to the dummy folder box on the themes page so that Folder highlight can be previewed on that page.
Output Amount now displays 'All' instead of -1.
It's now no longer possible to load the exact same directory twice.
Folder and Slider Headers were using the wrong Text Colour, should have been Header text.
Folders now support Drag & Drop to change the order instead of the up/down arrows.
Slider number labels now use the correct theme colour.
Slider panel parameter Enable controls moved to processing Panel.
Rewritten how the messages are used throughout the app, now hovering over controls will display messages at the top instead of through the Tooltip system.
Right click menu added to file displays with delete file/save etc…
Preset Table Border now uses the border colour correctly.
Manual rewritten to reflect the many changes.