February 2, 2023, 10:52 pm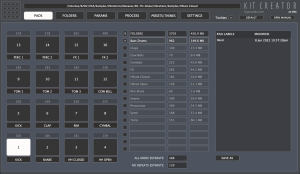 0.996:
Octatrack now has a menu to select the bit depth & mono/stereo WAV export options which includes 'AUTO' for grabbing the settings from the first Kit WAV. If the bit depth is less than 16, 16 will be used or if higher than 24, 24 will be used to maintain compatibility with the OT.
Added estimated Counts to the Pads (on the Pads Panel) showing unique WAV amounts with the aim of helping to balance WAV usage.
Overhauled the Sitala Factors Release code, the Release parameter is actually a Macro for 3 settings. For the purposes of Kit Creator it needs to behave like a release & so has been rescaled appropriately.
Added more choices to the increase/decrease volume functions.
Added 'NO REPEAT' Mode which stops creating as soon as one of the folders have been used completely.
Improved the Speedrum Code.
Tweaked the TAL-Drum Factors.
Global Volume Percentage added to Factors.
Factors added for SFZ, TX16Wx, Tal-Sampler & SampleOne.
Factor text edit fields now respond to the return Key & give away focus.
Sample Layers are now manually created for SpeedDrum
Added 'Assign All Sequentially' which assigns each folder slot to the corresponding numbered pad. There is also a reversed version & a randomized version.
Export now aborted if no folders are assigned to pads.
Fixed: All Mode now creates the correct number of presets when not all 16 folder slots are used or a folder is unassigned.
Fixed: STOP now works in Utilities Mode.
Fixed: Parameter Enable settings are now ignored in convert & edit mode.
Fixed: SFZ now using relative paths correctly
Fixed: first Octatrack export wasn't written if the folder didn't exist.
Fixed: Edit will now only operate on the first found type in a mixed preset folder.
Fixed: Pads Panel now updates folder assignments on entering.
Fixed: Right Click clear all assignments only worked the first time in the Apps lifetime.
Fixed a crash converting to Octatrack when the export destination directory doesn't exist.