January 27, 2023, 1:58 am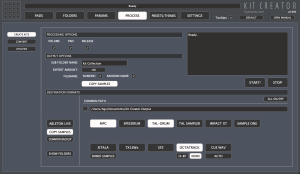 v0.995
Advanced Mode has been removed, the new mode is much simpler to understand & makes all of the Advanced options unnecessary. As a result of removing Advanced Mode the backend is now also more refined & much less prone to potential errors creeping in.
The sub directory option is no longer an option & now standard behaviour.
Export support for Presonus Sample One.
Export support for TX16Wx has been added.
Import/Export support for Elektron Octatrack Sample Chains has been added. Samples are always re-sampled to 44.1 khz which is the samplerate of the Octatrack, the samples will be exported in 16-bit however 24-bit is an option. By default the export will be stereo but Mono is available. Sample Chains are a WAV and a corresponding 'ot' file which contains the split information. Sample chains can also be imported to convert to any other format.
Export for CUE Marker based WAVs has been added.
TAL-Sampler is now a distinct Export type & no longer requires exporting TAL-Drum at the same time.
All formats that can use relative paths to samples are now stored in a sub folder Called 'Multi-Format' which also contains a 'Samples' sub folder which they link to. This entire folder is therefore portable.
Fixed: converting from TAL-Drum didn't get the correct sample length.
Fixed: Utilities Pan menu out of sync with the options.
Fixed: Speedrum exports now set to 'Note On' mode & enables the volume envelope.
Lots of other improvements.