January 20, 2023, 3:16 pm
0.994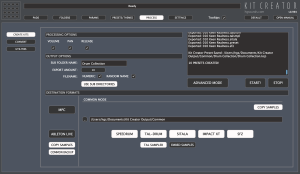 Added Simple Mode. This exports everything to the same top folder structure with a global copy samples option. Primarily designed as a way to make a self contained portable folder with all releases. Works with all formats except MPC & Ableton Live which are special cases.
Option to create each type of preset in its own individual folder which makes things much more organised.
Simple mode is now the Default mode, the Advanced Mode Button can be used to get back to the individual settings.
Simple Mode saves the kit Creator preset to the common output folder.
Fixed some first time startup settings to sensible default values & updated Default file.
Overhauled & Improved backend Preset System.
Removed vertical bars on Utilities Page.
Fixed STOP not working in convert mode.
Added some Amp Release to TAL-Sampler generated presets.