January 12, 2018, 3:15 pm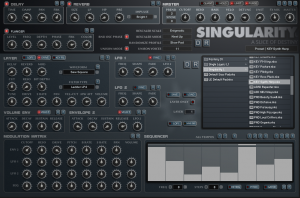 Singularity Lite is a fully fledged single oscillator Synthesizer which uses Raw Waveforms as the Oscillator. It has 2 Envelopes, 2 tempo clocked LFOs and a Sequencer which are all assigned through an extensive Modulation Matrix. Although Singularity is a single layer of Destiny, it still uses the 11 Layers as a Unison mode and so is good for Supersaw type sounds. All Presets can also be loaded into Destiny and vice versa.
There is also a version of Singularity that is included with Destiny, the only difference is that Singularity Lite uses a reduced number of Waveforms. Best of all, it's free!
Features
Oscillator which uses basic Waveforms from a selection of 28
Selectable Filter from an extensive choice.
Lofi Bit Depth and Sample rate reduction
Drive
2 LFOs each can be Synced or un-synced
Volume ADSR Envelope
Assignable ADSR Envelope
General Purpose Sequencer which is assignable via the Mod Matrix and also has direct Pitch and Gate Modes.
LFO cross modulation
Extensive Modulation Matrix with 4 Sources and 8 Destinations
Effects Section with Delay, Reverb and Modulator (Chorus, Flanger or Phaser)
Unstable Effect which warbles the pitch to give an old unstable character
In built Preset system and Preset Browser
Ability to load Layers from Destiny Presets
Presets compatible with Destiny
Extensive Tuned Randomizers
Pitch Rescaler and a large selection of scales which are applied to the Sequencer Pitch output.
Requires the full version of Kontakt 5