January 10, 2020, 12:18 am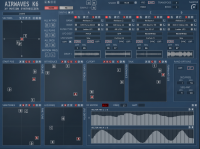 Both AirWaves and Movement have both been updated to add Kontakt 6 Specific Instruments. They include all of the new 6 Features such as the high quality Modulation, Delay and Reverb Effects as well as implementing Drag and Drop Support for easily using custom Samples. These versions also add an additional formant filter per synth with accompanying XY Sequencers with Talk and Formant Size.
This is a major update to the Instrument which has been redesigned to make it easier and much more logical to use.
To coincide with these updates both products are on sale for $19.99 as well as most other Kontakt Instruments.