August 2, 2018, 1:23 pm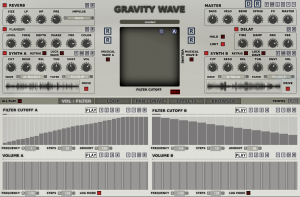 Gravity Wave adapts the synth engine from Fragments with the goal of building a unique sounding atmospheric synth. Gravity Wave uses very long waveforms which increases the complexity of the end result forming unique landscapes sometimes reminiscent of the Korg Wavestation. The samples used come from the previous releases of Fragments, Air Waves and Air Tones although they have been reprocessed into very long complex waveforms from which the sounds are pulled. Having the combination of the Radio Waves and Musical Sounds, it can make for some very interesting and unique Pads when mixed together.
Gravity Wave has 2 Synthesizers each using 8 sequencers to Sequence the Volume, Filter Cutoff, Loop Length, Loop start, Pan, Drive Amount, Delay Send and Reverb Send. This is a huge amount of Motion available to shape the character. In terms of sample playback, the loop start and length allows moving around the underlying samples, and because they are large results in unique and surprising sequences.
Gravity waves costs $39.99.
This video demonstrates a few of the included 100 Presets: