After Months of work, Multiverse the successor to Kosmos is now released, furthermore all Kosmology Releases have now been updated to include Multiverse which adds extra weight to each collection. This is a free update to all existing customers and can be downloaded from your personal downloads page. Note that Multiverse has replaced Kosmos which will no longer be sold, however Kosmos releases  are still available to those that bought them.
Multiverse Script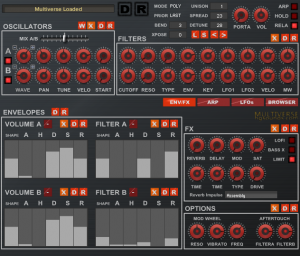 The idea with Multiverse was to redesign Kosmos from scratch, bringing many enhancements seen in the Kosmology Script. Multiverse has now replaced Kosmos, and if you own any Kosmos products, the multiverse versions are available on your download page. The major improvements are:
An internal Browser for loading & saving Presets easily – there are also previous/next buttons for cycling through presets easily
The preset browser has the ability to filter which parts of the presets are loaded, for instance you could just load the filter section when cycling through presets
The ability to save a Default Instrument used as the basis for all of the Default buttons
Clearer design of the front panel which has most of the major sound design controls visible at once
An Advanced Programmable Arpeggiator – This replaces the Sequencer used in Kosmos as Kosmology instruments are also included with each Multiverse release
True Dual Synth – Each Synth now has it's own Filter in comparison to Kosmos which shared the Filter Cutoff and Resonance controls.
Mono/Unison/Portamento are now controlled from the Multiverse script.
The Reverb has been replaced by a Convolver which includes 50+ Impulse responses – the same set used in Kosmology
Kosmology Instruments are included in all Kosmos Releases
Designed with Light CPU use in mind – Multiverse uses much less CPU than Kosmos
Sample memory is automatically managed so that only the used samples are loaded at any time.